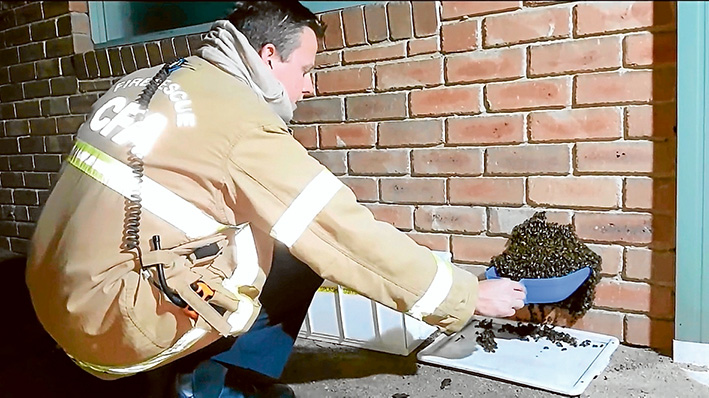 IT wasn't as dramatic as a fire, but Mornington fire station officer Simon Mildren was only too happy to respond to a call out of an unusual nature last week.
A swarm of bees had made themselves at home on the front doorstep of a Mt Martha home and the owners – with young children – were a little nervous about them staying.
Unsure who to contact, they alerted the brigade who arrived with a camera to make an educational documentary for similar occasions.
Mr Mildren said swarms at this time of year were normal and, if left undisturbed, were relatively harmless.
"This is hard for people to comprehend because a swarm is often noisy, however, it is important to know that they are just looking for somewhere to settle and make a new home," he said. 
The station officer became interested in beekeeping several years ago as a way of making his favourite honey wheat beer. He has his own hive and happily added the Mt Martha bees to it. Fortunately, they all integrated well.
"Bees are social creatures who usually venture three-five kilometres from home in search of pollen," he said.
"In this case, we were keen to support the family and, also, to save the hive and prevent it from being exterminated."
The bees, with their queen safely protected in the middle of the swarm, were quickly rehoused into a plastic box – but not before the smell of the bees' attack pheromone put him on high alert.
Then it was back to the station and on to Mr Mildren's Macclesfield home in the morning.
"If you come across a swarm of bees you should leave them alone and contact your local council who maintains a list of beekeepers for this purpose," he said. 
"It is best to leave swarm management to trained beekeepers so that no one – including the bees – gets hurt."
The film of the bee rescue can be seen on the CFA website, as well as an information brochure on beekeeping.