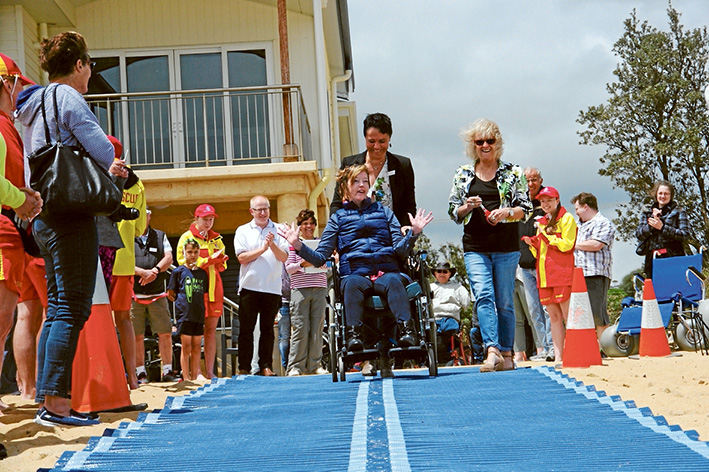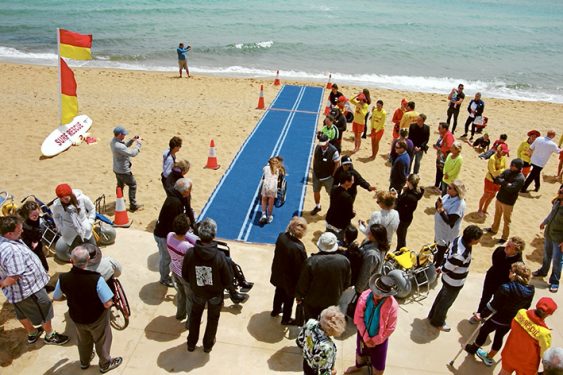 AFTER five years of negotiations and planning, beach matting has finally arrived to provide safe access for wheelchairs at Mt Martha beach.
Unrolled to public for the first time two Saturdays ago (27 November), the matting was quickly given trial runs, and the thumbs up.
Several wheelchairs and one man using two crutches took to the matting after a ribbon cutting ceremony involving Mornington Peninsula Shire mayor, Cr Bev Colomb, the shire's MetroAccess officer Virginia Richardson, Mt Martha Life Saving Club president David Mowat and Karen Frankhauser.
The first roll of matting was given a kick by Mark Hopper before it was pinned to the sand by lifesavers.
Making the water's edge accessible to wheelchairs has been a long-held aim of the Disabled Surfers' Association Mornington Peninsula branch, which wants a similar system operating at other peninsula beaches.
The DSAMP has six wide-wheeled wheelchairs which it hopes to make available to the public when not needed for scheduled surfing events at Point Leo.
The 50 metres of plastic matting now being kept and regularly rolled out by Mt Martha lifesavers was bought by the shire.
Ms Richardson said the success of the matting and its popularity would be evaluated in May and, if appropriate, made available at other peninsula lifesaving clubs.
Cr Colomb said the "pilot project … will now be rolled out every weekend until 30 April".