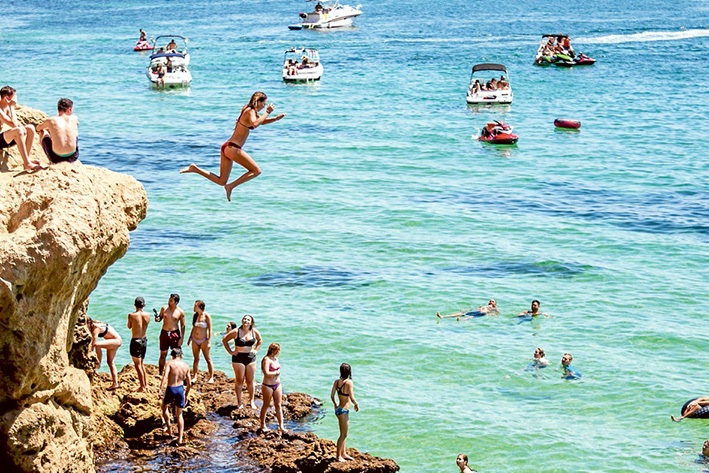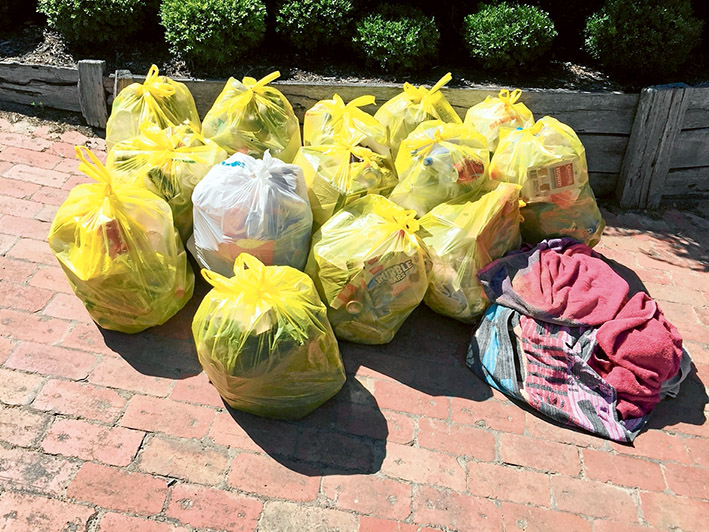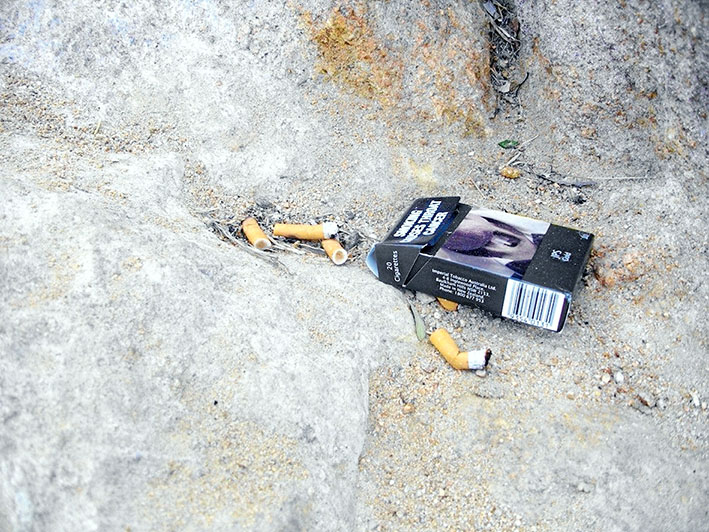 THE overwhelming stench of urine and cigarettes greeted Mt Martha resident Peta Donaldson and her eight-year-old daughter when they visited the Pillars after a heatwave weekend's crush of young visitors had departed.
"The weather was calm, with not a breath of wind, yet the Pillars literally smelt like a hideous concoction of a public toilet and an oversized filthy ashtray," she said last week.
"Thousands of cigarettes were left on the cliff. Wafts of urine hit us in the face as we climbed the coastline. So strong was the stench my daughter dry wretched – not ideal for a supposedly idyllic natural wonder for all to enjoy.
"It is blatant. There is no respect, no regard, no care, no love."
Ms Donaldson, her husband Scott and neighbour Ben Davey collected 19 bags of rubbish over two hours on Monday left behind by crowds of visitors to the site.
"It was strewn along nearby streets within walking distance of the Pillars and on the Pillars themselves," she said. "We were shocked, disgusted, angered, bewildered and dismayed by the amount of rubbish left behind.
The litter included glass and plastic bottles, thousands of cigarette butts, aluminium cans, towels, underwear, clothes, thongs, sanitary pads, food wrappers/take away containers, Coke bottle full of urine, bags of litter collected but left behind, and pizza boxes.
"Not only were we overwhelmed by the amount of rubbish, but we discovered that the Pillars has now been graffitied by vandals," Ms Donaldson said.
"Again, this simply reiterates several issues that are clearly not being addressed by council."
Ben Davey, of Deakin Drive, said he had been threatened by a group of young men parked in his street after they saw him speaking with police.
"I felt intimidated," he said. "They said they know where I live and they'd be back."
He said cars were blocking driveways – including 27 cars parked in his street on Thursday – and actions being taken by the shire were "pushing the problem into local streets".
"On the one hand the council says it is making the area safer for visits by installing bollards and reducing speed limits, but there are no bins, no toilets, signs or pathways saying where the Pillars are," he said.
"Nothing has improved; it's only got worse for residents with the visitors doing burn-outs, causing dust and damage – and, of course – the council is nowhere to be seen."
Some of the young people were aggressive and drunk and urinated in the streets, he said. "There's a demographic difference – they are not from Mt Martha and they have no respect."
Mr Davey said a $70 parking fine wasn't too daunting when divided among four people in the one car – it's similar to city parking fees.
Ms Donaldson said signs banning alcohol were "not working". "What is happening to reinforce the new laws?" she asked.
"Did the rangers visiting the area yesterday report anyone for littering, drinking, illegal parking, or urinating in public?"
Mornington Peninsula's acting chief operating officer Niall McDonagh said shire officers "proactively patrolled the area twice or three times every day".
"With the warmer weather, patrols are ramped up and can be conducted up to eight times in a day," he said.
"The southern officers also patrol this area on their way back to Mornington."
Mr McDonagh said officers enforced 'No Stopping' infringements in surrounding streets, with police enforcing alcohol breaches. "Police have been made aware of this issue and enforcement of the Esplanade is conducted by them.
"Police also patrol the surrounding residential streets where 'No Standing' rules apply. They also enforce [rules against] parking on nature strips and both the police and parking officers issue penalty infringement notices.
"The shire's service providers do regular litter patrols along the road edge and surrounding streets. When required we also collect rubbish on the cliff top."
Mr McDonagh would not say if any infringement notices had been issued.
Mornington Police Acting Sergeant Sarah Blackmore said police "obviously maintained a presence" at the Pillars on busy beach days.
"Patrols of the area are always raised in briefings at the start of our shifts," she said.
"It helps if residents report bad behaviour so that we know what's happening. Residents should call 000 to alert police because we can't be everywhere at once.
"If we have the resources, we will be there."