SOCCER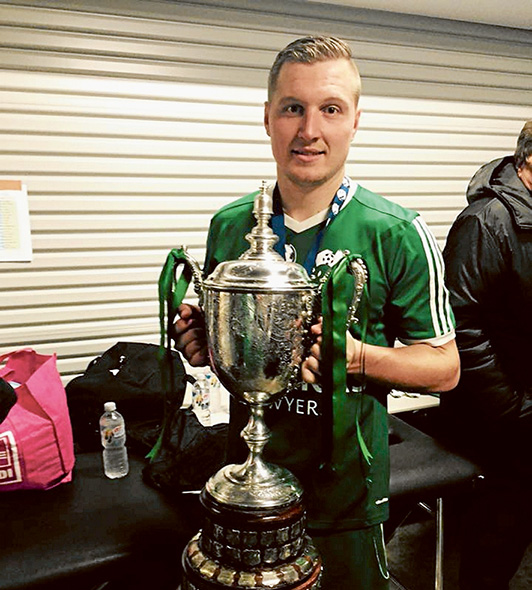 By Craig MacKenzie
MORNINGTON is poised to beat a host of suitors to the prized signature of star striker Ryan Paczkowski.
"Patch" is believed to be keen on returning to his first Australian club after sensationally quitting NPL giant Bentleigh Greens last week.
His switch from playing as a contracted player and reverting to amateur status means he has to go through an enforced four-week layoff before playing an official game for Mornington, which brought him to Melbourne for the 2014 season.
Dallas Brooks Park has been a happy hunting ground for Paczkowski and along with Wayne Gordon, high-profile English import Josh Hine and the returning Simon Mur, Mornington will soon boast the most lethal strike force in State 1 South-East.
Add big Gino Defeo and Michael Freeman to the mix and the club has more depth up front than in recent seasons.
Paczkowski's shock exit from Bentleigh Greens alerted NPL and State League clubs to his availability but there was only ever going to be one destination for the classy forward.
Brisbane Strikers, Port Melbourne, Bulleen and Dandenong City were rumoured to be in the queue for his signature.
It's understood that work pressures forced Paczkowski's hand and he was unable to commit to the training regime required at NPL level.
He recently received permanent residency and his job as a project manager with Prime Projects was a pivotal part of his successful application.
Paczkowski hails from Doncaster in England where his CV boasts stints with Gainsborough Trinity, Harworth Colliery, Frickley Athletic and Brigg Town.
At Brigg Town he was a teammate of recent Mornington import Nathan Smith.
Paczkowski took State League ranks by storm scoring 21 goals in 2014 when Mornington threw away a second-to-none chance of winning the championship then bagged 22 goals the following season during Mornington's title romp before being snapped up by Bentleigh Greens.
The step up to NPL never fazed the talented Paczkowski who enjoyed a stellar 2016 season highlighted by a number of man-of-the-match performances and multiple team-of-the-week selections.
His injury-time winner broke the deadlock in the 2016 Dockerty Cup final as Bentleigh edged out Green Gully 1-0.
Fellow striker Hine is having some hiccups in arranging a visa but is expected to arrive in early March.
The news concerning English midfielder Matthew Wade is much more promising and he joins Mornington on Tuesday 21 February.
Wade has been signed from Blyth Spartans in England's Northern Premier League Premier Division and will play in the 2017 FFA Cup before returning to England for a wedding and missing Mornington's round one league clash on Friday 24 March away to Casey Comets.
The shocks kept coming on the weekend when rumours circulated that Sam Scott will not play for Langwarrin again and is keen to join arch rival Mornington.
Scott did not turn up for training with Langy last week and although the club is aware of rumours linking him with Mornington it is waiting for Scott to contact it before it comments on the issue.
The midfielder from Launceston FC in England is a housemate of Mornington keeper Kris McEvoy and socialises with other Mornington players.
It's believed that Scott is keen to play with his mates in what could be his last season in Australia.
Meanwhile Marinos Panayi and Dylan Waugh are officially off Peninsula Strikers' radar.
Panayi is a former Bentleigh Greens youngster who shunned Strikers' attempts to snare his signature and signed for NPL 2 outfit Eastern Lions.
Waugh was a revelation last season with Seaford United and despite training with Strikers has decided "to stay with my mates" at North Seaford Reserve.
The big striker scored 19 league goals in 2016 to finish third in State 2 South-East's Golden Boot award and his haul enabled Seaford to claim a creditable midtable finish.
The Strikers remain in the hunt for a new hitman.
The club's search for a left back to replace Ezekiel Yinka-Kehinde who has taken up refereeing could be over as veteran Troy Williams continues to defy time.
Williams, 43, has not played a senior league game for eight years and has concentrated on playing for the highly successful Peninsula Celebrities in the Bayside League's over-35s competition.
He was the Celebrities' Player of the Year in 2016 as the side completed yet another league and cup double.
The former Casey Comets, Springvale City, Moorabbin City and Lyndale United player is a fitness fanatic and has been putting younger players to shame in some training drills.
The news concerning former Frankston Pines captains is mixed with Kyle Crawford returning from New Zealand this week and expected to join Knox City while Casey Comets' capture CJ Hodgson finds out this week the extent of surgery required to his ankle due to a bone fragment.
"If Kyle goes to Knox then by my count that will be eight Pines players who have gone there this year," said Pines head coach Billy Rae.
On a positive note Luke Murray and Matty Davis are back in training at Monterey Reserve.
Liam Kilner, Mark Pags and Ben Meiklem missed Baxter's friendly with Casey Panthers on Saturday at Baxter Park.
Kilner has a back injury, Pags is battling a calf strain and Meiklem had work commitments.
A feature of the current preseason has been the number of local clubs cutting costs by using Bayside League referees instead of official FFV referees to officiate at friendly games.
Any clubs not using FFV referees are placing their players at risk as they are not covered by Football Federation Australia's national insurance program.
Here are some of the weekend's pre-season friendly results: Casey Comets 0 Essendon Royals 4, Mornington 4 Mazenod 4, Peninsula Strikers 0 St Kilda Celts 2, Baxter 3 Casey Panthers 0.