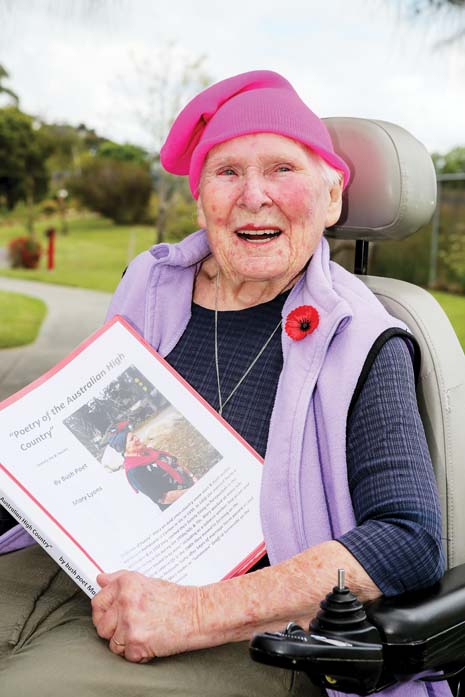 A FORMER bush walker turned bush poet will have her poetry preserved in print in a project that proves it is never too late to have written work published.
Mary Lyons, 87, a former Mt Martha resident and keen walker in the Peninsula Bushwalking Club in the 1980s and 1990s is now mostly confined to a wheelchair at Somercare in Somerville but her love of life living amongst nature is vividly described in her poetry.
She worked as a tobacco picker, hop picker and dairy hand. Husband Norm passed on after 54 years of marriage.
Family friend Kev Cooper, whose mother also resides at Somercare, said he is gathering the bush poet's work together to publish in an ebook next year.
"My objective is simply to share Mary's beautiful poetry with the world," he said.
The ebook, called Poetry of the Australian High Country, is written by Lyons from her life experiences living in the Victorian and Tasmanian bush over a 40-year period.
Mr Cooper said The Henry Lawson Society poetry and literacy group, based in Kingston and headed by Tony Lambides-Turner, visited Somercare last month to hear readings of the poems.
Ms Lyons was inducted as an honorary life member of the Peninsula Bushwalking Club in 1992 by then president Alan Miller.
Current club president John Trevillian described Ms Lyons as "a real character with a great love of the bush".
"Mary is a very unassuming character that would never chase the limelight," Mr Cooper said.
"I rate Mary's poetry works as equal to any of our Australian greats along with the likes of Banjo Paterson, Henry Lawson, CJ Dennis and Dorothea McKellar."
MEMORY ETERNAL

A moment of magic as I turned to see

The wonder of nature before me

Pack-laden and wet, yet I stand,

Enthralled by the beauty of this lovely land.

Like a curtain of gossamer it drifted across the plain.

The rain!

Billowing like the finest silk from an open window pane.

The mist!

Gently it fell from a distant hole in the sky

Dew kissed!

Softly as a plaintive cry for an unattainable wish,

I stood alone in this unforgettable time

And knew a moment that was truly mine.

Mary Lyons