PENINSULA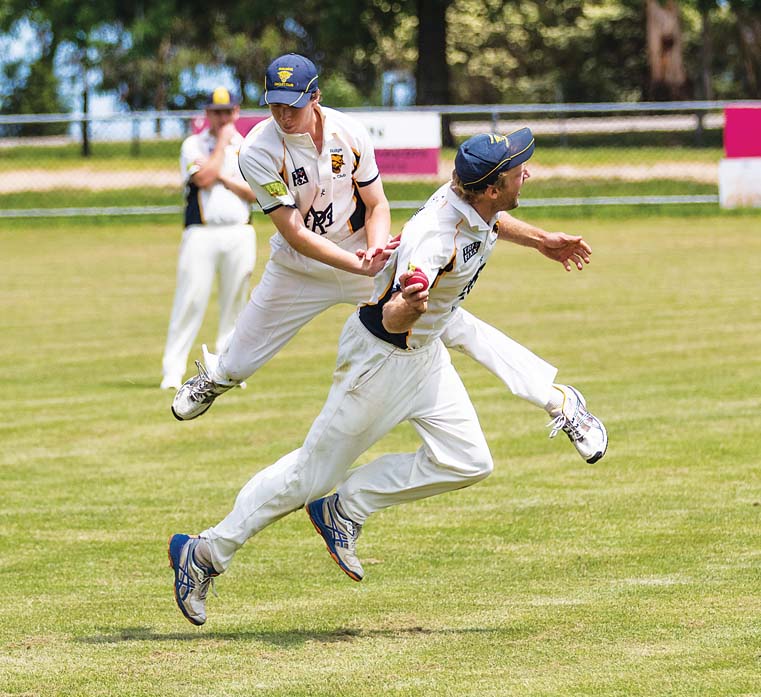 MAIN Ridge thrashed Red Hill in MPCA Peninsula cricket on Saturday in a day that was marred with controversy at Red Hill.
It appeared on Saturday when the teams arrived at the ground that a Red Hill wine farmer might have got themselves lost on their ride-on mower and ended up at Red Hill Reserve.
You see, when Main Ridge batted at the ground last week for its 214, the ground was described as a "cow paddock".
From all reports, council came and mowed the grass on Wednesday – a great result for the Hillmen.
However, in controversial circumstances, when Main Ridge turned up on Saturday to defend its first innings total, it noticed that the deck had been cut even finer.
It seems the 'farmer' was out on his ride-on mower on Friday afternoon, appropriately decked out in his high visual gear. Call it justice but the shorter grass didn't help the Hillmen a bit – they were rolled for just 136.
The Red Hill karma bus was driven by Main Ridge's Luke Collins, who tore through the Hillmen with 6/47 from 24 overs. Matt Merifield top scored for the Hillmen with 37.
Flinders recovered from its slow start against Long Island, eventually winning by 37 runs.
Chasing Long Island's 117 for victory, Flinders resumed on day two at 2/20 with Charlie Burgess on 14 and Brennan Gillies on two. Burgess added just four runs and Gillies five, before Neil Barfuss came to the rescue with 54.
There was also some wag in the tail, which saw the Sharks score 150 and remain in equal third place on the ladder.
Moorooduc got the job done against Pines, chasing down the 190 required for victory with three wickets in hand.
The Ducs resumed their first innings at 1/19 with Ben Williams on seven and Madushanka Perera unbeaten on 10. Whilst Williams added just six, Perera added another 20 before John Collison came to the rescue with an unbeaten 65. Pat Jackson was the best of the Pines bowlers with 2/61 from 27 overs.
Somerville fell just 12 runs short of Delacombe Park, scoring 218 in reply to the Parker's 230.
Leigh Lowry almost single-handedly won the Eagles the game, scoring 115 at the top of the innings. Jayde Herrick also opened with 47.
Problem was for the Eagles that the next best score was 17 and there wasn't another double-figure score after that.
Dean Blight picked-up 3/56 for the Parkers, including the wicket of Lowry.