SOCCER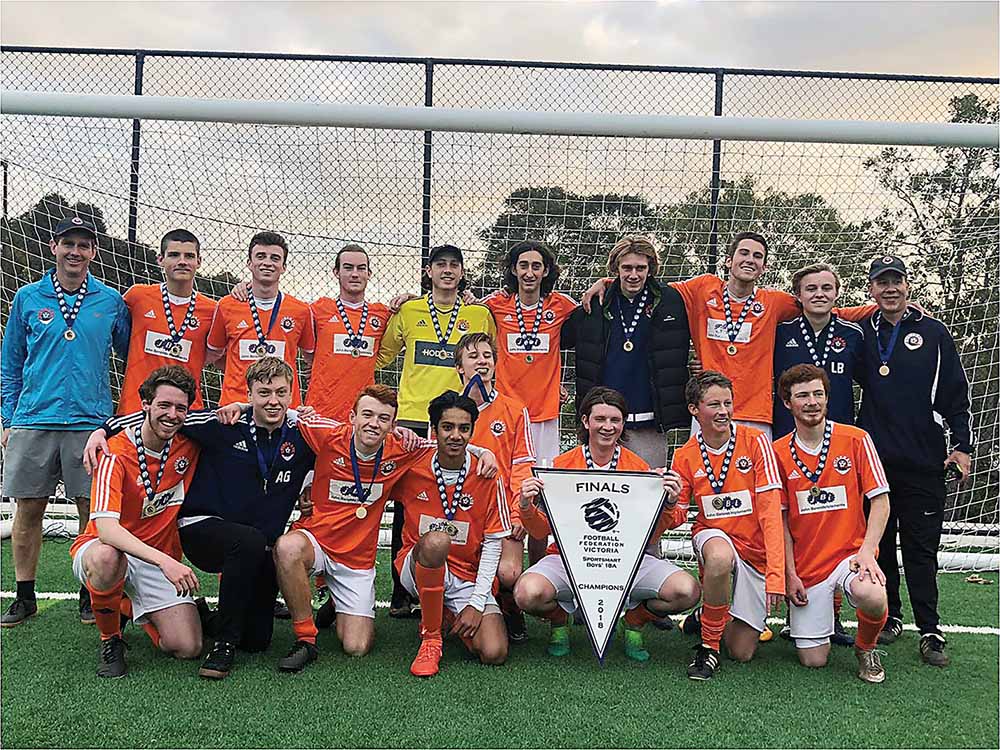 ASPENDALE Stingrays have millions of reasons to hope that the Andrews government is re-elected at the upcoming state poll.
A proposed four-pitch multipurpose complex with new pavilion and car parking at Kerr Crescent Reserve in Aspendale Gardens would secure the club's future and provide the springboard for growth envisaged by the current administration.
There has been no shortage of good news for the Stingrays recently as Football Victoria named Aspendale the 2018 Club of the Year at a gala luncheon on Friday.
Just five clubs from throughout the state made the shortlist for the prestigious award which recognises the remarkable progress of the club in the past four years.
"A lot of it had to do with the exposure we've been able to gain for our club and although there's been a fair bit recently about the state government and council both backing the Kerr Reserve development it's really something that Kevin (Griffiths), Joe (Mravljak) and myself have been working on for the past few years," club president Derrick Berends said.
Griffiths is vice-president football and Mravljak vice president operations and along with Berends they have overseen a growth spurt which has taken the Stingrays from 100 members to around 500 spread over "38 to 40" teams including 25 miniroos sides.
Kingston council now ranks the Stingrays ahead of NPL giant Bentleigh Greens in terms of participants.
The club has been forced to use three venues for training and two for matchday purposes but the Kerr Reserve proposal would end their nomadic existence.
"The idea of consolidating at one venue is what we have been working towards," Berends added.
"Patience and perseverance have been the keys to what has been achieved so far.
"We were involved in direct lobbying of local ward councillors and we were able to get FFV (now Football Victoria) to deal directly with the council.
"Once council became aware that we were forced to turn kids away, to hire various venues for training and that we couldn't grow the female wing of the club they realised that we weren't just a small club of 100 members any more."
The Kerr Reserve project has been estimated at close to $9 million and the Andrews government has committed $4.5 million.
Public contributions to Kingston council's consultative process closed last week and a review period will ensue prior to a final report being published.
The Stingrays entered State League ranks for the first time this year with the seniors finishing a creditable eighth in a 13-team league.
Striker Domenic Paul's first match for Aspendale was in round six last season and he finished with 15 goals in 15 games coming sixth in State 5 South's best and fairest award.
The reserves finished fifth winning their last six matches while the under-18s won the league championship finishing four points clear of Peninsula Strikers.
"I think we would have lost most of the under-18s if we didn't have a State League side," Berends said.
"They will seriously bolster our seniors and reserves next season and we feel that the talent coming through is such that we can have a red-hot go at promotion."
Paul Williams recently stepped down as head coach of Frankston Pines and is holding talks with the Stingrays about their plans for the 2019 season and beyond.
The big news in NPL2 is Langwarrin's capture of Luis Rodrigo Covarrubias, Jaiden Madafferi and Jamie Cumming.
Covarrubias, 24, is a striker with elite competition experience having been on the books of Northcote, Pascoe Vale, Melbourne Knights, Bulleen and Box Hill United.
He scored 14 goals for St Albans Saints last season and was the fourth highest scorer in NPL2 West.
Despite his Chilean background he has had stints in Argentina with Chacarita Juniors and River Plate's youth team.
"We have mobile, dynamic midfielders and we needed someone who can add strength to that No 9 role and who we can play off at times," head coach Scott Miller said.
"But he's not necessarily just a target man because he can go both ways."
Madaferri, 19, is a former Skye United junior who played with Northcote last season and has been on the books of Bentleigh Greens and Melbourne City.
His story is remarkable given that in 2014 he was the victim of a serious assault at a party in Bayswater and was on life support in an induced coma at the Royal Children's Hospital before making a complete recovery and resuming his promising playing career.
He is a defender and Langy did well to clinch his signature given Dandenong Thunder's interest in the teenager.
"I had a lot of good comments about him and he lives locally and when we sat down with him I knew we had to sign him based on his past two years," Miller said.
"He's a left-sided player but has the potential to play in different areas because he's been coached well at different points in his career."
Cumming, 31, is a former Joey and Young Socceroos defender who made his senior debut with Frankston Pines and has an impressive CV that boasts spells at Oakleigh Cannons, Bentleigh Greens, Heidelberg United and Avondale.
Langy was keen to sign him in late 2017 but he chose to join Mornington and won its best and fairest and players' player of the year awards last season.
"In terms of the back four I wanted someone with experience and demonstrated leadership," Miller said.
"He'll also add to the competition in that back four.
"I've known Jamie for some time in fact he trialled at Fulham with another Australian boy."
That brings to eight the number of new signings announced recently by Langy but Connor Belger's return looks increasingly unlikely.
A group of players including the newcomers and some of last year's senior squad have already been screened by high performance manager Alistair Wallace who will eventually assess the entire senior squad.
"When the players sign on I get in contact and run through their injury history and aspects of physicality they feel they need to improve," said Wallace.
"Then I go through a movement screen with them to identify any inefficiencies they may have and then work to correct them.
"As we are correcting the issues we are going through an accumulation phase of strength training to get them as strong as possible before the added load of football starts.
"They are also doing conditioning sessions which involve either swimming, cycling or running."
Langwarrin has locked in a series of pre-season games but kick-off times are yet to be confirmed.
It plays Beaumaris at Lawton Park on Saturday 22 December, Oakleigh Cannons at Lawton Park on Saturday 12 January, Brunswick City at Lawton Park on Saturday 19 January, Kingston City at Lawton Park on Saturday 26 January and Preston Lions at B.T. Connor Reserve on Saturday 9 February.
The annual Steve Wallace Memorial Cup will be held on Saturday 2 February with a venue to be confirmed.
In State 1 South-East news Football Victoria confirmed last week that the top two sides in that league next season would win promotion to a newly created third tier competition for elite clubs in 2020.
Previously only the league champion gained promotion.
Meanwhile State 2 South-East outfit Peninsula Strikers continues to build its pre-season schedule and has now locked in a home clash against Michael Curcija's Essendon Royals.
The Centenary Park hit-out will take place on Saturday 12 January with the reserves at 3pm and the seniors at 5pm.
In other news Seaford United and Baxter held their annual presentation nights last weekend.
Matt Schwellinger won Seaford's senior best and fairest and players' player of the year awards while in the reserves Cody Storton-French and Mitch Hawkins tied for best and fairest and the players' player of the year was Josh Simmons.
Seaford's senior women's best and fairest was Cassie Harper and she was joint winner of the players' player of the year award with Aleisha Piper.
Stuart McKenzie won Baxter's senior best and fairest and players' player of the year awards while goalkeeper James Foster won the coach's award.
All three equivalent awards in the reserves were won by Lee Sharples.