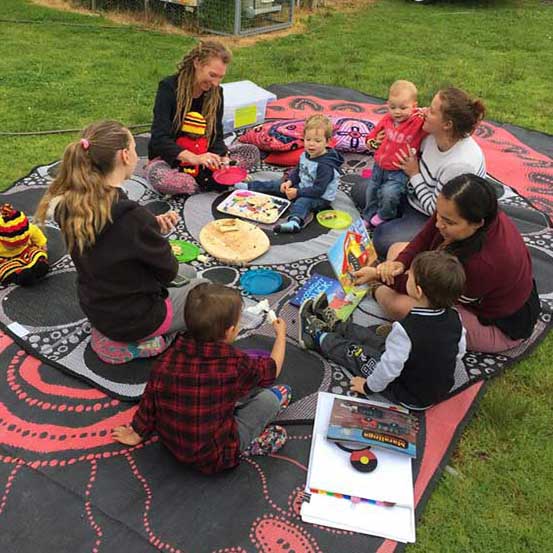 SUPER Koorie Kids Bush Playgroup and Balnarring Preschool have been named as finalists in the 2019 Victorian Early Years Awards.
The awards celebrate the contributions that individuals and organisations make to improving the learning and development of young children and their families.
Super Koorie Kids Bush Playgroup and Balnarring Preschool were nominated in the Creating Collaborative Community Partnerships category, which will be awarded next month.
Since 2016, Mornington Peninsula Shire has worked closely with Willum Warrain Aboriginal Gathering Place to provide Super Koorie Kids Bush Playgroup, a culturally welcoming bush playgroup for Aboriginal and Torres Strait Islander children and families.
The aim was to create a weekly opportunity for these children to be immersed in their culture and learn in a caring environment, surrounded by kin. The success of this model has allowed members of the Willum Warrain Bush Playgroup to take ownership of the program and, as of this year, Super Koorie Kids is run by three local parents.
Balnarring Preschool was nominated for its program delivered in partnership with the Boon Wurrung Foundation, which advocates a culture of learning in natural environments and consciously connecting children to the land.
Since 2010, the organisation has been introducing First People's world views into its practice and community, carefully guided by Elders from the Boon Wurrung peoples, on whose land the preschool stands.
First People's perspectives are now incorporated into all areas of the daily curriculum, allowing children to learn and explore the Boon Wurrung language, stories, songs and dances.
The mayor Cr David Gill congratulated both finalists on their dedication to bringing Aboriginal and Torres Strait Island culture to the forefront of learning for our young community. "It's fantastic to see two well deserving local projects acknowledged at a state level," he said.
"To have both programs now run by community represents great success for the empowerment and independence of our people.
"The success of both programs is evident in the positive community feedback and high level of enrolments.
"Well done to all involved and congratulations on your dedication to improving our community culture."
Winners will receive $10,000-$15,000 to further develop their work or undertake professional development.
The award winners will be announced Tuesday 22 October at the National Gallery of Victoria. Details: education.vic.gov.au/veya