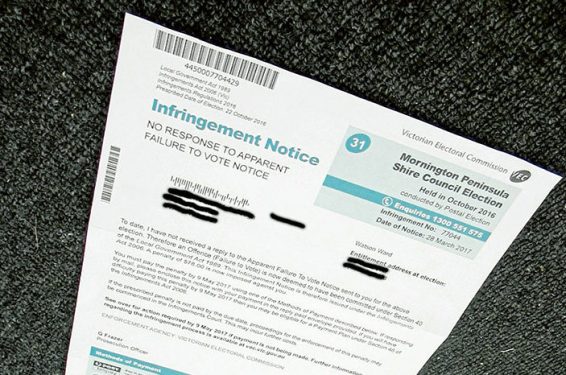 THERE was no suggestion the high number of votes not counted in the recent Mornington Peninsula Shire elections had influenced the outcome, a Victorian Electoral Commission spokesman said last week.
Mike Lagastes, of the VEC's communications department, was speaking after residents on social media sites complained they had been sent infringement notices for not voting when they were adamant they had. The fine is $78.
The spokesman said there had "been a lot of cases" where ballot material had been returned to the VEC after the deadline of 6pm 21 October.
He said there were "no reports of mass delays in the post that would have contributed to that many people sending their notices back late".
"In some cases voters may have written down the wrong date, with some even putting down November and December. Others simply said they had forgotten [to vote]," Mr Lagastes said.
Apparent failure to vote notices have been sent out, asking people why they "appear not to have voted" at last year's council elections.
The VEC says the notices are not a fine but an "opportunity for people to explain why they didn't vote. The VEC urges recipients not to ignore the notice".
Mr Lagastes said there was no evidence to suggest the result of the polls would have varied if all voters had successfully submitted their choices.
"So, the VEC is confident there were no irregularities," he said.
Voter turnout for Briars Ward was 75 per cent; Cerberus 72 per cent; Nepean 69 per cent; Red Hill 76 per cent; Seawinds 72 per cent and Watson 76 per cent.
"That's a similar result to what we experienced in previous postal vote elections," Mr Lagastes said, referring to council polls in 2004, 2008, 2012 and 2016.
"Obviously people have concerns [about being fined] but it is a case of the VEC having to comply with the law. We have strict guidelines. When a ballot envelope is received we check its declaration date, the date it is received and the date it is postmarked.
"We have no option but to impose fines if people's votes are received after the deadline."
The VEC confirmed infringement notices had been sent out to 12,531 of Mornington Peninsula Shire's 156,170 registered voters. About 80 per cent related to no response being received to the initial failure-to-vote notice.
This figure is said to compare favourably with previous elections.
"Of those who responded, about 70 per cent were excused," Mr Lagastes said. Those wanting to appeal a fine can apply for an internal review.
First published in the Southern Peninsula News – 11 April 2017