CRIB POINT FNC
By Jared Newton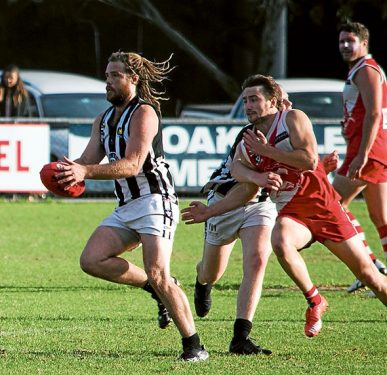 THE seniors lost their fourth on the trot in a 98 point belting at the hands of Sorrento, as they also faced their fourth loss on the trot.
The upside to the performance was it could've been much worse as they were 120 points down into the last quarter and managed to peg a few back late in the game to take some form of momentum into Tyabb for this weeks game.
It was a dirty day for the Pies in Brad Davidson's 150th game in the Black and White as a senior footballer.
The winless Pies didn't have too many winners on the day except for big Jim Cook who clearly won his position in the ruck. Paul Smith continued his good form with another three goals in a day where goals were hard to come by.
Confidence is down for the seniors at the minute who need to stick together and do a bit of soul searching as a group to find a way forward and salvage some positives to build throughout the year.
The reserves found themselves in a ticklish situation early against Sorrento in a goal for goal affair, before breaking the game open in the second and never looking back for a solid 48 point win.
The midfield were given silver service all day and in turn have silver service to the forwards where Mitchell Kleinig led the way with a 5 goals and Duane Annable wound back the clock with some solid marking and a bag of 3. Jacob Cudmore staked his claim to get back in the senior team with a 3 goal effort from the wing.
There were no passengers for the reserves all day who defended well, were hard at it and stayed on top all day.  It was a great win in a day where the side had four player filling in due to some key outs.
The unders were solid but not quite in the same class as Sorrento as they went down by 75 points in the early game.
The junior Warlocks- Ethan and Joey Smith continued their strong form with solid games at either end of the ground and Spencer Wilton snagged himself a couple of goals as a ruck/forward.
The unders form is hard to gauge and to be fair they've come up against two of the best sides in the comp already. Their best footy has them in the 5 but it's a matter of how often they bring it to their games each week.
NETBALL
By Lily Hibbert
AFTER what was another disappointing finals campaign in 2015, our netballers are back and stronger than ever! Some exciting new recruits, such as VNL player Karly Wappett and the return of Dionne Douglas from injury paired with a rigorous pre-season from our fitness coach (Adrienne Harris) has put us in an excellent position for success across all grades in 2016.
A Grade coach Belinda Nerantzoulis couldn't be happier with the line up she has. With a young and versatile team on court, finals will again be on the cards. She says 'our defenders are working hard and our goalers continue to reward them'. After taking down Red Hill, Pearcedale and Devon Meadows in previous rounds, our top team made easy work of Sorrento at their home court on Saturday. Congratulations to Alicia Coventry for playing her first A Grade game for the club.
Although winning their first two games, producing a draw against a strong and accurate Devon Meadows in the previous round meant that B Grade was out to prove themselves this week, beating a Sorrento side that we believe is improving each year. Laura Herrington made a long awaited return to the court and her first goal of the match was met by cheers from an excited Crib Point crowd. Some new faces this year have added strength and diversity to the team allowing them to produce a new level of netball this season.
C Grade this year have an abundance of players and talent for coach Leah Moncrieff to work with, including the return of another famous face, Fiona White, after pregnancy. The girls are still working to 'gel' together, however they came from behind against Sorrento on Saturday to win the match by 3 goals. Strong efforts from many of our 'veteran' players like Jess Scarlett and Demelza Baxter have helped the team to play competitive netball each week. Amy Cook is currently sidelined with an ankle injury and we all hope she is back on court soon.
Jane Piotrowski is coaching our under 17's this year and is doing an excellent job with a fresh squad. She says 'they are improving every week and I'm excited to see what they will bring for the rest of the season'. The girls are yet to win a game after losing some key players from last season but are training hard and enjoying their netball.
Our biggest challenge awaits us this weekend when we play Tyabb. We are looking forward to playing against some tough competition in all grades and we are ready to take them on!
The club would also like to congratulate Belinda and her new husband Anthony on their pregnancy. Belinda will be missed on the court this year, but her words of wisdom will no doubt inspire some excellent netball.