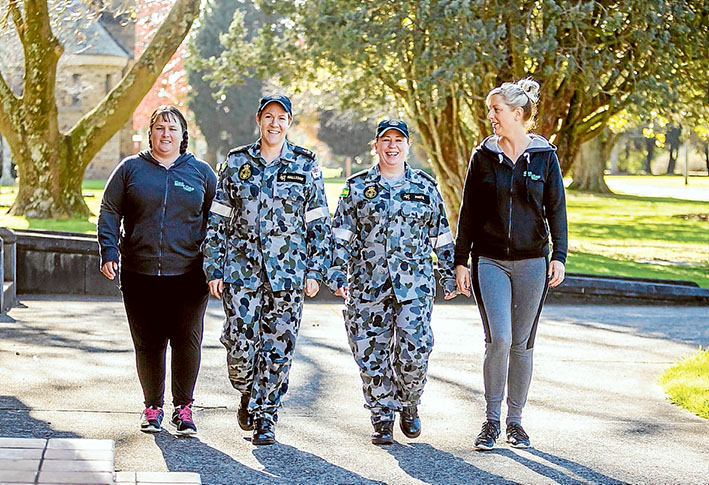 FOUR women are setting off on a 100 kilometre walk tomorrow (Wednesday) to raise $15,000 for the Dogs for Diggers program.
Leading seamen Freya Halliday and Kathleen Price, of HMAS Cerberus, personal trainer Lisa Beakley, and Navy wife Rachael Eslick, all 30, hope money raised on the four-day trek will buy several companion dogs for service personnel who are having difficulties coping with the stresses and fall-out of their military service.
Many of these serving and former Defence personnel are on medication and some too anxious and distressed even to go to public places. But this all changes when they get their dogs, which are non-judgmental, love their new masters unconditionally and are loyal and devoted friends.
More than 10,000 Australian veterans live with post-traumatic stress disorder, and, so far, the Dogs for Diggers program has helped 93. It has also possibly saved the lives of the rescued dogs – of all breeds – which may have faced a bleak future without being tasked with this supportive role.
The four women have been training hard over the past four months with weekly 10km training sessions. Initially their target was $7500 for three dogs to be trained by the Young Diggers Dog Squad, but, by Monday, they had already received $9000, so their target was doubled.
"The walk came about through friends who were keen to do it for fun, and we thought we'd like to do it too, but for charity," said Ms Price, who has been in the Navy for 15 years.
"Then we thought we would see what we could do Defence-wise."
While the walk was the prime money raiser, other activities now include a trivia night, barbecue and even a dunk tank – the "more money we raise the better".
The full Mornington Peninsula Walk combines four walks: the Two Bays, through the hinterland from Dromana to Cape Schanck; Coastal, through the Mornington Peninsula National Park along the Bass Strait coast from Cape Schanck to Portsea; Point Nepean, in and around the Point Nepean National Park; and the Bay, from Portsea to Dromana along Port Phillip.
The women will start at Dromana, 8am, and walk anti-clockwise to reach their goal.
It will be a tough challenge but, thanks to the generosity of their sponsors, the women will rest easy after each of their three nights "on the road" thanks to Peppers Resort, Cape Schanck, which will provide free accommodation.