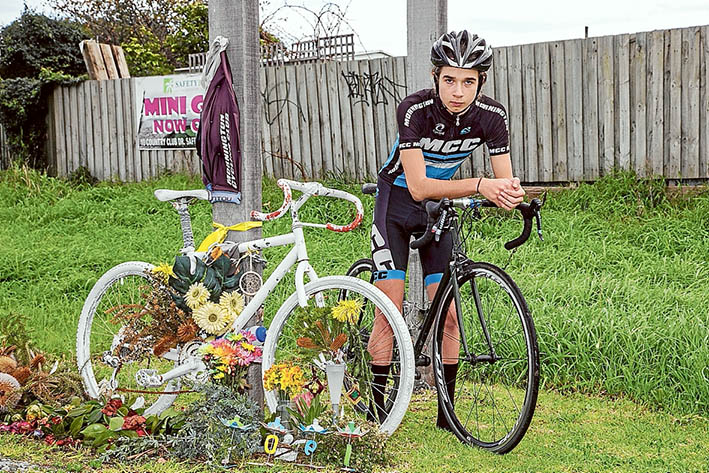 MORNINGTON Cycling Club has named a scholarship after popular member Joel Hawkins who was tragically killed while riding along Nepean Highway, Dromana, in June last year.
Club president Bruce Trew said the under-19 scholarship would this year go to Sam Turner, 16, a young cyclist who embodied the same outstanding qualities and values as Joel Hawkins, and who is seen as a rising star in the 80-member club.
The awarding of the scholarship followed a gathering of family and friends at the site of Joel's "Ghost bike" memorial near Ponderosa Place on 18 June – one year after the fatality. They met to remember Hawkins and "share some stories about his journey".
A Rosebud man, 47, is scheduled to appear at a committal hearing at the Melbourne Magistrates' Court on 18 July, on charges of culpable driving and driving in a manner dangerous causing death.
Mr Trew said Joel, then aged 17, of Mt Martha, was "popular, a fantastic cyclist and really going places".
"He dreamed of being a professional cyclist and had made cycling his life."
Members of the club hope the bike left beside the road as a memorial would remain "for a long time" as a tribute to their former colleague. Joel's father Les and mother Lisa regularly maintain the area.
The scholarship will provide coaching, race entry fees, and upkeep for Turner, as well as providing personal development opportunities.
The McCrae cyclist, in year 11 at Dromana Secondary College, said Joel was a friend who had inspired him as a rider.
"I've been in the club since Christmas and it's been really good," he said.
"The scholarship will open up doors for me and I very much appreciate it."
His brother Jet, 18, is also a keen cyclist and member of the Mornington club.