PENINSULA LEAGUE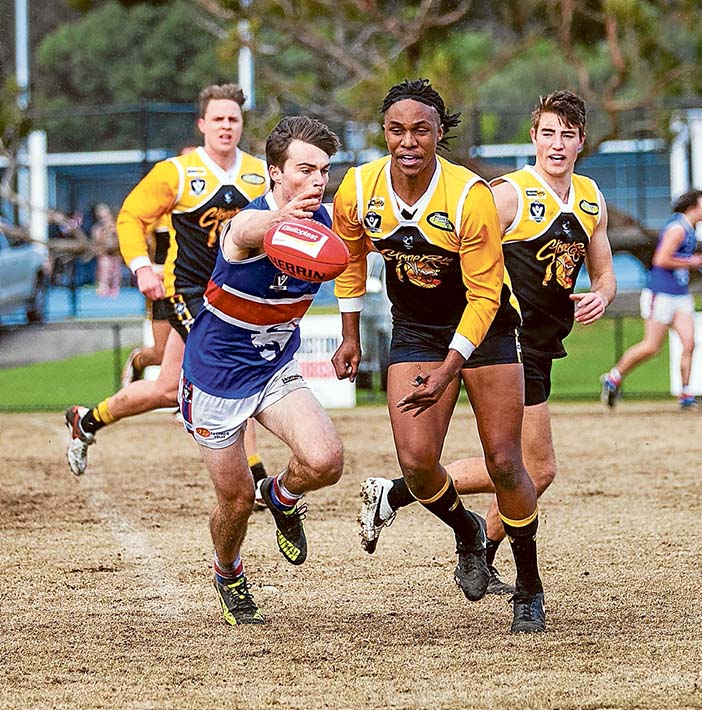 LANGWARRIN proved once again on Saturday that it is not far off becoming a consistent competitive outfit after leading all afternoon to beat Pines.
The Kangaroos, who again had five Under 19s playing, jumped out of the blocks and snatched an early lead, one that they didn't give up for the entire match.
Karingal assistant coach Leigh Poholke told the RPP Footy Show on Saturday morning that he thought the Kangaroos could "get the Pythons on the outside with their leg speed on the open spaces of Lloyd Park".
Poholke was absolutely right. Many say that Langwarrin should have beaten Pines when they met earlier in the season, however, inaccuracy in front of goal cost them on that day.
History didn't repeat itself. Pines was starved of the footy while the likes of Michael Parker and Nick Tuddenham dominated possession of the footy for the winners and Matty Naughton gave them first use in the ruck.
Mitch Cuthbert is an emerging defender and for a skinny kid still learning his craft, he continues to get better, makes the right decisions and attacks the footy. The Kangas need to invest in a gym membership for him.
Nick Hammill also gets a lot of responsibility each week as a key defender and continues to produce the goods.
There's a lot to like about this young Kangas team, who will welcome back Sean Herdman soon too.
Kieren Albanese returned on Saturday after a couple of weeks off and enjoyed the fact that Jack Fisher wasn't playing for Pines, booting a game high three goals.
Pines being opened up the way they were is a concern.
Great sides find a way to win.
For 98 per cent of the match on Saturday between Frankston YCW and Mornington, the Doggies led on the scoreboard. They also led in general play.
The visitors opened the match with the first four goals and led by 12 points at half time. The margin was seven points at three quarter time but Mornington still had their noses in front.
However, as all great sides do, the Stonecats found a way. They booted 3.1 to 1.1 in the final quarter to snatch a five point win, 6.11 (47) to 6.6 (42).
Brenton Credlin was a welcome return and one of the best on the field and Jai Coghlan, Lachy Wallace and Craig Nankervis got to work when they needed to.
Will Goosey and Michael Gay were the best of the Dogs.
On paper, Mornington is still a quality outfit and their best is very good. It's been a wasted season.
Mt Eliza coach Troy Shannon faced his old side Edithvale-Aspendale for the second time in opposition colours and came out with a 12.8 (80) to 7.7 (49) victory.
Matt Stanley booted three goals for the winners while Jimmy Clayton and Jay Neratzoglou were outstanding in defence. 'Neratz' restricted Mick Meehan to just one goal.
The Redlegs set up the win with a six goal to one first quarter.
Bonbeach returned to the list of winners with a 12.12 (84) to 6.6.42 victory against Karingal.
The Sharks worked hard against the breeze and were able to score with it, ensuring they got the valuable four points.
Dylan Jones and Mark Tyrrell were outstanding for the Sharks while Jake Kelly and Luke Van Raay shone for the Bulls.
A very undermanned Karingal had four Under 17s playing, as well as a host of Under 19s. Ruckman Grant Goodall and Michael Burke were two notable absentees.
Seaford and Chelsea were dead level on 3.5 apiece at half time on Saturday before the Tigers got their noses in front in the third quarter. They were able to hang on in the last to win 9.10 (64) to 6.9 (45).
Aaron Walton booted three goals for the Tigers while Dean Kemble was outstanding.
Grant Trew and Todd Gardiner were outstanding for the Gulls.