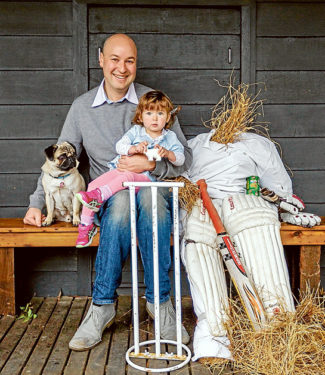 AFTER a year's break, the Mornington Peninsula Hinterland Scarecrow Festival and Trail is about to return with Shawne Rubinstein already having someone in mind for his scarecrow.
Mr Rubinstein and wife Lisa Panuccio, of Red Hill, are busy building a scarecrow of cricketer Shane Warne.
"He's Australia's most popular cricketer, favourite larrikin and the best bowler this country has seen," Mr Rubinstein said.
The couple is hoping to do justice to Warnie with a double-sided scarecrow. They plan to inject some humour by immortalising a few infamous off-the-pitch moments – including his love of baked beans.
"They say imitation is the greatest form of flattery, so you'll just have to wait and see how it turns out, but it will be family friendly," Mr Rubinstein said.
Up to 40 families, businesses, artists and schools will be supporting the scarecrow event which runs 16 September to 3 October.
Participants are welcome to join in the fun by building a scarecrow to add to the touring trail and win prizes, whether they live in the region or not. The organisers will match up hosts and scarecrow makers.
The first prizes of $300 will go to this year's Best Aussie Icon Scarecrow and Best Traditional Scarecrow. For the first time an Artist's Permanent Sculpture Competition will have a $1500 first prize, with other competitions and prizes.
The scarecrows have evolved into a community art form and can be seen in front of gardens, shop fronts, mazes and vineyards around Red Hill, Main Ridge, Arthurs Seat, Balnarring, Merricks, Merricks North and the back areas of Dromana.
They come in all shapes, sizes and colours and can be traditionally built or made from hay bales, farmyard relics or be an art installation made from papier mache. Their appearance and personality is only limited by imagination.
Go to scarecrowfestival.org.au for competition details and to register.
First published in the Southern Peninsula News – 26 July 2016