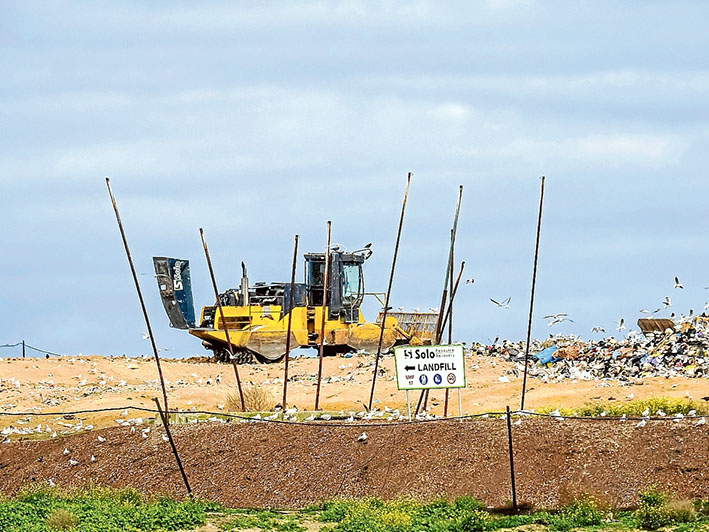 THE Rye tip will continue to operate until new technologies are adopted to cope with waste on the Mornington Peninsula.
Mornington Peninsula Shire last week agreed to extend the life of the tip beyond 2018 and join other municipalities in finding a site and method to dispose of their waste.
Cr David Gibb said it would be cheaper to use Rye rather than trucking the peninsula's waste elsewhere.
The shire's plan could also see land in McKirdys Rd, Tyabb, used as a waste reduction and disposal site by several municipalities.
The plan revolves around the use of alternative waste technology (AWT) to reduce the amount of rubbish ending up in landfill.
Cr Gibb said prolonging use of the Rye tip would not jeopardise the shire's bid to be carbon neutral within five years.
He said claims that it was necessary to close Rye to achieve carbon neutrality had been "a fraud on ratepayers".
Trucking waste off the peninsula "to put into someone else's landfill" would cost $1.5 million extra a year.
"We are already capturing [at Rye] so much methane that we could buy carbon credits to cover our carbon neutrality 100 per cent," Cr Gibb said.
He said using the Rye tip for another 15 years had been costed at more than $28 million while using trucks and paying tipping fees outside of the shire would cost more than $50 million.
"People have realised the error of their ways that [trucking waste elsewhere] didn't stack up financially or environmentally."
Council last week agreed to extend the use of the Rye tip for an initial three years providing it to remain flexible "in its ability to respond to the state government's efforts to establish an AWT facility".
Meanwhile, the shire would join the Metropolitan Waste and Resource Recovery Group (MWRRG) in tendering for an AWT south east of Melbourne "noting the option and opportunity of locating such a facility at council's Tyabb waste facility adjacent to Western Port Highway".
Background notes provided to councillors stated that it is "very likely" that Melbourne would have just three landfills operating within 15, and all west of the city.
"There are strategic risks, a greater expense and environmental disbenefits when transporting the kerbside municipal waste of [the peninsula] across the city to another landfill."
Cr Gibb's motion to extend the life of the Rye tip was carried 6:4. For the motion were Crs Gibb, David Garnock, Bev Colomb, Andrew Dixon, Anne Shaw and Antonella Celi; against Crs Hugh Fraser, Tim Rodgers, Tim Wood and Graham Pittock.
In February council has adopted a policy to become carbon neutral within five years. Cr Pittock, who late last year attended an international climate change summit in Paris, said the policy of achieving "zero emissions"  would "return a financial payback to the shire and its community".
First published in the Southern Peninsula News – 30 August 2016