By Barry Irving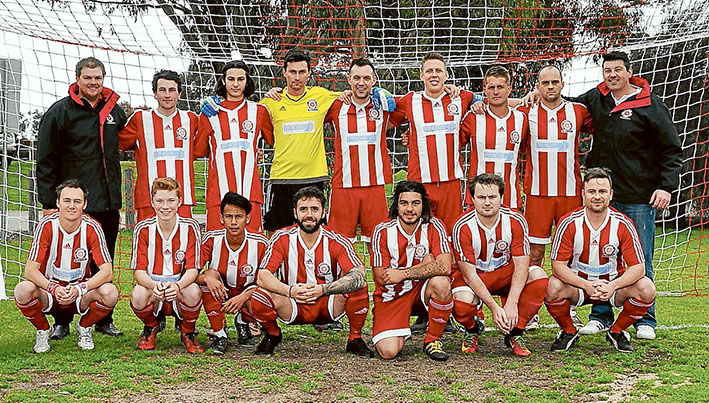 WINNING their final game for the season on last Saturday week ended a perfect season for Rosebud Heart.
The Heart's 18 wins from 18 games made it only the third team in football federation Victoria history to achieve a perfect season.
The unblemished score was a remarkable achievement for a club whose senior side is only in its second year.
The club secured promotion to state league four with five games remaining after a 6-0 win over White Star Dandenong.
Its first senior league championship was secured with three games remaining with a 2-1 win over Sandown Lions.
A season defining result was a top of the table clash against Baxter that almost guaranteed a championship. Baxter was beaten 5-0 at its own ground after a heated match earlier in the year.
Rosebud Heart will play in the state league finals series on 17 September to become the state champions of the division. The club will play in a semi-final against the league champions of the east division and could progress to a grand final.
Rosebud juniors also performed well this season with membership up from 180 to 220 this year.
Results for junior teams:  under-14 reds were undefeated all season to win league championship; under-12 reds finished third; and the under-11 reds had an undefeated season.
"This club is growing bigger and bigger each year, the future is extremely bright, the aim of the senior club when it was started was to provide a pathway for the kids coming through to play Saturday soccer at a high level without having to travel," said coach Scott Morrison.
"We have achieved our first aim of securing promotion, and we want to keep rising through the state leagues as quickly as we can."
New players of all ages welcome. Call: Jason Symonds, 0473 888 847.
New bocce courts
Mornington Peninsula Shire has built eight new bocce courts in Hastings to provide a low-impact activity space for the Hastings U3A and the wider community.
Hastings U3A, a place that provides retired people aged over 55 somewhere to participate in health and wellbeing classes, suggested the construction of the courts on unused tennis courts at Hastings Tennis Club.