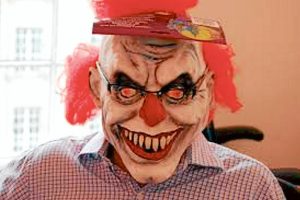 THE creepy clown phenomenon is concerning police, with their antics alarming motorists and passers-by.
Reports of the clowns holding fake knives and cap guns and terrifying motorists along Frankston-Dandenong Rd, Carrum Downs, came to light Monday afternoon last week. The trio was said to be standing on the side of the road in full view of passing motorists. They ran off before police arrived.
Senior Sergeant Kim Young, of Frankston police, said wearing a clown outfit was not necessarily against the law – it "has to be taken in context and depends on what they are doing", she said.   
"Every instance will be assessed on its merits but, generally, if the offenders are making nuisances of themselves they will be dealt with."
Senior Sergeant Justin Watson said police also responded to reports of clowns on Robinsons Rd, Langwarrin, on Monday. "They were young kids who scampered and there was no incidence of violence," he said.
"However, we are treating the issue seriously and we won't tolerate offensive behaviour."
Sergeant Watson said the clowns were copycats mirroring the US craze.
Asked if they would be arrested, he said: "It is an offence to possess an article of disguise, however, it all depends on the circumstances.
"For example, it is not an offence to wear a balaclava in the snow but it is not allowed in a bank. If there is no threat then there is no crime."
Mornington Sergeant Jodie Powell said police received "three or four" calls from residents complaining about clowns on Racecourse Rd, Mornington. One reportedly was carrying a wooden knife.
"It's bad and scary," she said. "I know of at least three jobs. We didn't locate anyone on the first two but on the third we spoke to a young man but no charges were laid."