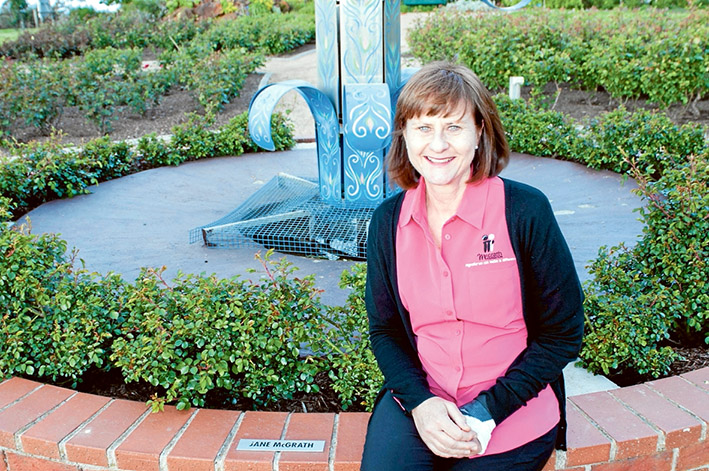 FRANKSTON nurse Jenny Macindoe has one of the most difficult jobs in healthcare – that of working exclusively with people with an incurable illness.
Ms Macindoe, a specialist metastatic McGrath Foundation breast care nurse, has just been appointed to fill the much-needed role of supporting patients by providing an outlet beyond the family unit with whom they can talk to openly.
Metastatic breast cancer refers to the stage of cancer that is incurable – it has spread beyond the primary tumour site of the breast to other parts of the body.
A nurse for more than 30 years with significant experience in specialist breast care nursing, Ms Macindoe said she was honoured to take on the role, one of only three in Australia.
"My passion is supporting people who have an incurable disease by providing an outlet outside the family unit with whom patients can express their concerns," she said.
"I also offer the most relevant and up-to-date medical information based on their individual needs and circumstance."
More than 1000 people are diagnosed with breast cancer each year in the south-eastern Melbourne region alone.
Ms Macindoe said the needs of people diagnosed with metastatic breast cancer differed to those diagnosed with early-stage breast cancer, with the focus of treatment on prolonging life and ensuring the quality of life is as high as possible.
She said patients required far greater involvement with the healthcare system at this stage of their illness, and the nurses' role of understanding "the entirety" of what is important in that person's life" was crucial.
Brendon Gardner, chief operating officer at Peninsula Health's Frankston Hospital, welcomed the new appointment.
"Having a full-time metastatic McGrath Breast Care Nurse based at Frankston Hospital is a terrific development, as there is a great need for expertise and care in this specific area in our local community," he said.
Co-founded in 2005 by Jane and Glenn McGrath after Jane's initial recovery from breast cancer, the McGrath Foundation aims to raise much-needed funds to place McGrath Breast Care Nurses in communities across Australia, as well as increasing breast awareness in young people.
McGrath Breast Care Nurses act as a patient advocate; they coordinate care not only for people with breast cancer but also for their families and carers. Since 2005 the McGrath Foundation has supported more than 49,000 families experiencing breast cancer.
Families in the Frankston and surrounding communities can access the free service by contacting Jenny Macindoe by emailing JMacindoe@phcn.vic.gov.au or by calling 9788 1754.
Women are urged to have regular breast cancer checks, with new data from Breastscreen revealing participation rates in Victoria's free screening program remain relatively unchanged.
Breastscreen has clinics in Frankston, Dandenong and Cranbourne.
Every year, more than 4000 women in Victoria are diagnosed with breast cancer and 700 dies from the disease.
For more information or to book a scan see breastscreen.org.au or call 132 050.