SOCCER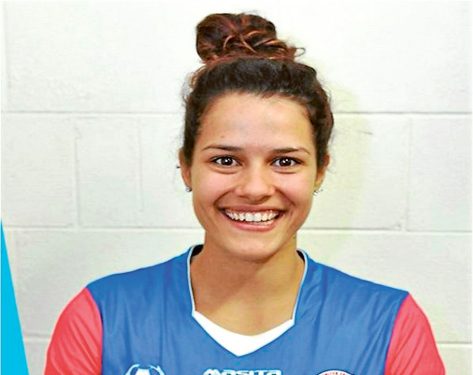 By Craig MacKenzie
SOUTHERN United is hoping to sign an international midfielder as it prepares to kick-off the 2017 NPL women's season.
The consortium club's negotiations with the player are advanced but Southern has been careful to ensure that every new signing is a good fit for the inclusive culture the fledgling club is trying to nurture.
It's believed that the player has made over 100 appearances for her country but recently was granted permanent residency in Australia and is currently interstate.
Southern's sole visa player is Florida native Courtney Hueston, a midfielder who has played with the Miami Hurricanes and recently graduated from Florida Institute of Technology playing her senior football with the FIT Panthers.
Candela Ferreyra Bas is captain of the seniors and Hueston is vice-captain.
Southern is in the unique position of having co-coaches for the senior squad.
Bill Mihaloudis has coached at Heidelberg United and South Melbourne while Rob Giabardo has coached in the US and been involved with Beaumaris, Dandenong Thunder and Oakleigh Cannons.
"Our first year was a tough, turbulent year and we've had to rebuild the squad but one thing's for sure, we know we will be very competitive and we'd like to think we can give the league a shake this year," said Mihaloudis.
"We are very careful about the players we sign because we want the right players here who can also work with the juniors and we have started a mentoring program which we will expand in coming weeks," said Giabardo.
Mark Cassar is Southern's technical director, Phil Weiss (ex-Seaford United and Casey Comets) is goalkeeping coach, George Perpina is under-18s coach, Aaron Myatt is under-15s coach while former Matilda Debbie Nichols (head coach) and Emma Bracken (assistant) are again in charge of the under-13s.
Two newcomers to Myatt's under-15 squad best exemplify the commitment and dedication the club talks about when the topic of club culture arises.
Midfielder Monique Lapenta from Traralgon City and striker Lily Aitken from Traralgon Olympians face a four-hour round trip but have not missed a training session since last October.
Here are the club's 2017 squads with the previous club of new players in brackets:
Under 13s:
GOALKEEPER: Cadence Vakacavu (Peninsula Strikers). DEFENDERS: Tara Bobrowski (Langwarrin), Ezel Duyar, Taylah Hennekam, Emily Ryan, Brianna Watson (Langwarrin). MIDFIELDERS: Rhianna Cousens, Sage Kirby, Candice Kilderry (Casey Panthers SC), Billie Mudita (Traralgon City), Holly Wakker (Langwarrin), Danica Vukcevic (Peninsula Strikers), Shauna Mitchell (Langwarrin), Montana Phillips (Box Hill United). FORWARDS: Alessandra Davis, Rhys McKenna, Talia Palmer, Alex Jones.
Under 15s:
GOALKEEPER: Rianna Tann (Sandringham). DEFENDERS: Tanysha Hogan, Ellis Kadir (Hampton Park United), Sarah Tebbutt (Bayside Argonauts), Sarah Wilson (Casey Comets), Briana Dias (Sandringham). MIDFIELDERS: Charlotte Chard, Monique Lapenta (Traralgon City), Anastassia Pusca (Bayside United), Jasmine Ristevski (Peninsula Strikers), Sydney James (Alamein FC).
FORWARDS: Mia Sunkel-Lozell (Peninsula Strikers), Stephanie Theoclitou, Lily Aitken (Traralgon Olympians), Phoebe Tann (Sandringham).
Under 18s:
GOALKEEPERS: Amelie Delord, Celia Kelsall. DEFENDERS: Milla Jowett, Shakira Samuel, Hailey Hindhaugh (Bayside United), Amanda Chhouk (Mornington). MIDFIELDERS: Katy Blias, Jacinda Anastasopoulos, Sophie Ambor (Alamein FC), Dilara Coskun, Anthea Kaladis (East Bentleigh). FORWARDS: Savanna Anastasopoulos, Zoe Cooper (Traralgon City), Isobel Hall (Peninsula Strikers), Kallista Tzelios (Seaford United). TRAIN ON: Isabella DiNicolantonio (Mornington).
Seniors:
GOALKEEPERS: Freya Crocker, Christine Fonua (Heidelberg United). DEFENDERS: Natasha Dakic, Tayla Evans (Strathdale), Lisa Fonua (Heidelberg United), Monica Fonua (Heidelberg United), Demi Mihaloudis (Heidelberg United), Samantha Sheldon (South Melbourne). MIDFIELDERS: Candela Ferreyra Bas, Courtney Hueston (Florida Institute of Technology Panthers, US), Anouk Meereboer, Casey Aarons (Alamein FC), Caibiran Deas (Sandringham). FORWARDS: Elisabeth Robers (Bayside United), Rebecca Saber, Jess Beddows, Rachel Stirton (Langwarrin).
Southern United kicks off the 2017 league season by hosting Alamein at Lawton Park this Saturday 25 February. The under 13s start at 10am, under 15s at 11.30am, under 18s at 1pm and seniors at 3pm.
Meanwhile the local season kicked off in earnest on Saturday with FFV newcomer Somerville Eagles competing in its first ever official match, an FFA Cup tie against Mitchell Rangers at Monterey Reserve.
Somerville marked the historic event with an entertaining 5-2 win highlighted by three stunning goals – superb volleys from Bjorn Kutschera and Matt Swanson in the first half and a breathtaking free kick in the second half from Damien Finnegan.
State 2 South East outfit Peninsula Strikers boosted its title aspirations last week by signing Aziz Bayeh from Doveton to lead the frontline.
"His impact on the playing group at training last Thursday was immediate and you could see the energy levels rise," said head coach Craig Lewis.
"This solidifies our ambitions and we were very aggressive in pursuing Aziz who initially decided to stay at Doveton."
Bayeh scored twice in Saturday's 3-3 friendly against Beaumaris but failed to convert a second half penalty.
State 1 juggernaut Mornington has been buoyed by news that an application to have the main pitch at Dallas Brooks Park fully floodlit has been approved.
Mornington Shire Council and the state government will pitch in $70,000 and the club will foot the remaining $25,000 for the project which will start on 1 October this year.
Frankston Pines is expected to sign striker Munib Mohamed from Swinburne and Saj Sugrim, a left-sided player from Morwell Pegasus.
The club is poised to announce the capture of four more Mauritian imports in the next fortnight.
Here are the results of some recent friendlies: Seaford Utd 5 Riversdale 3, Frankston Pines 2 Harrisfield Hurricanes 1, Langwarrin 3 Skye Utd 3, Peninsula Strikers 3 Beaumaris 3, Rosebud Heart 2 Elwood 4, Casey Comets 2 Eltham 3.
On Thursday 23 February Peninsula Strikers take on Mornington at Centenary Park at 6.30pm, on Saturday 25 February Casey Comets plays Mazenod at Comets Stadium at 1pm and 3pm and on Sunday 26 February Langwarrin hosts Whittlesea Utd at Lawton Park at 1pm and 3pm.
The draw for next weekend's FFA Cup matches will be made today (Monday).