PROVINCIAL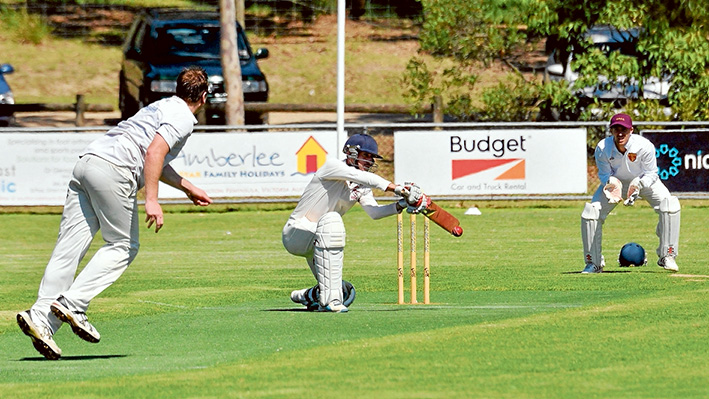 LONG Island has avoided relegation to District grade after pulling off a memorable victory over Pines on Saturday in MPCA Provincial cricket.
The Islanders came into the final match of the season a game clear of the Ducs and its percentage was just a smidge better.
Whilst it was unlikely that Moorooduc would beat Mornington at Alexandra Park, the Islanders still needed to win to guarantee them of preventing relegation.
As it turned out, the Ducs thumped the Doggies, which made the Islanders' win crucial.
At the other end of the table, Mt Eliza belted Somerville and stamped its authority on the top four, finishing in fourth place.
Baxter and Langwarrin both lost in their final games of the season and finished second and third respectively, while Peninsula Old Boys belted Crib Point to finish clear on top of the ladder.
Long Island won the toss against Pines and sent them into bat. The Piners scored 8/148 with Craig Entwhistle scoring 50 and Damien Lawrence 47.
Andrew Tweddle claimed 4/44 and Greg Lamb 3/34.
In reply, the Islanders were in some trouble at 2/11, however, Stuart Swift steadied things with 40, Tweddle hit 28 and Aaron Paxton got 32.
Long Island scored 6/150 with four overs to spare.
Peninsula Old Boys sent a very loud warning to the rest of the teams in the finals after belting Crib Point.
POB beat the Pies with 25 overs to spare and nine wickets in hand.
After rolling the Pies for 124 in 40 overs, Dylan O'Malley then put on one of his many clinics, smashing 13 fours and four sixes, scoring 96 of the first 116 runs scored. Wade Pelzer had the best seat in the house and was not out 26 as his side scored 1/125 in 15 overs.
Baxter will limp into the finals after losing its two final home and away matches to POB and Pearcedale on Saturday.
Winning the toss and batting first, Baxter made 5/184 after Daniel Warwick and Chris Brittain opened with 82 and 55 respectively.
However, 103 from Chris Dew opening the innings and 39 from Max Blackburn saw the Panthers score 6/189 in 37.1 overs.
Dale Irving and Chamika Sattambi snared two wickets each.
Despite losing its final two matches, Baxter would be very confident this weekend against Langwarrin, given their domination over the Kangas for many seasons.
The Kangas could only scrounge 8/157 against Sorrento, which replied with 5/158 in 36 overs, thanks to an unbeaten 112 to skipper Bobby Wilson.
Matt Prosser top scored for Langwarrin with 43, while Mal Coutts again came to the rescue with an unbeaten 31.
There was no stopping Wilson though, who opened the innings and saw the first two wickets fall for 24.
Jedd Falck helped to stem the tide with 21. Travis Campbell was the pick of the Langy bowlers with 3/32 from 10 overs.
Mt Eliza made 180 against Somerville with Justin Grant top scoring with 65 before rolling the Eagles for 110 in the 30th over. Leigh Lowry top scored for the Eagles with 60. Grant was the man with the ball too, taking 3/17 from five while Shaun Knott and Lyle House picked up two wickets each.
Ben Williams opened with 77 and Michael Whincup hit 52 to help Moorooduc to 6/202 against Mornington.
The Dogs were then rolled in embarrassing fashion for just 106 in 25 overs. Brad McDonald top scored with 40 after picking up 4/52 with the ball.
In the Provincial Semi-Finals this weekend, POB will host Mt Eliza and Baxter will be home to Langwarrin.
Baxter and Langwarrin met in Round 2 and the game was washed-out. Baxter was all over the Kangas after scoring 254 and then had them 4/93 in reply after 50 overs.
Mt Eliza beat POB after scoring 263 in their round six match, the last game before Christmas. POB was then bowled out for 207.