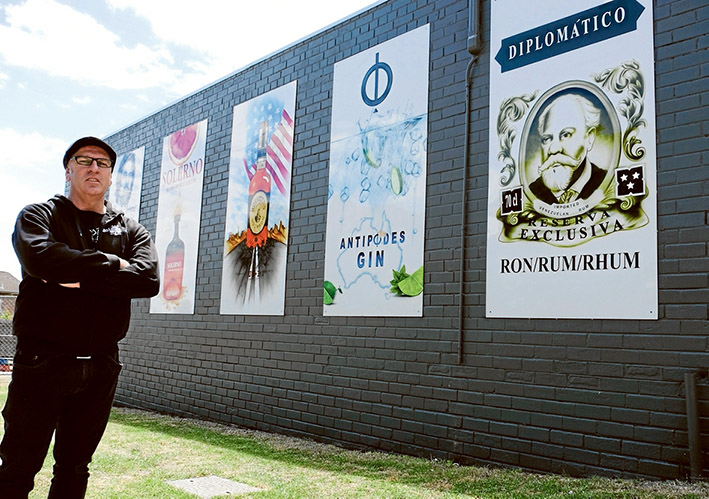 RAY Rogers has always been into art and things that look interesting. So what better way to utilise his passion for the creative than to commission murals outside his Dromana bottle shop, Sea Breeze Cellars.
"When I first bought the bottle shop over four years ago, it was run down and so our first priority has been to stock it with the best quality spirits. We have achieved that and are now regarded by patrons and suppliers as one of the top three stores in Victoria for the vast range of spirits we have on offer," said Ray. "We then had to address the dull outside and the result is these amazing murals by airbrush artist, Andy Riley."
Andy (pictured above) has been airbrushing for almost 20 years and has won numerous awards for motorcycle art, portraits and wildlife.
"I met Ray through a friend of mine who mentioned he was trying to find someone to paint a shabby looking wall on the side of his cellars," said Andy.  "We had a discussion that rather than paint the wall let's do panels. That way I was able to do them in my own time. Once they were all complete we hung them all together. The signs are painted on sign writers board with automotive basecoat with a two- pack clear to protect them."
Ray says Andy came up with the concept of using certain rare products that Sea Breeze Cellars stock.
"We have over 800 spirits in the shop and many are not available everywhere in Victoria so there was plenty for him to choose from as the focus of the individual mural boards," said Ray. "The mural was completed prior to Christmas last year and the response from the public has been awesome. It has raised the aesthetic value of the street as well."