SOCCER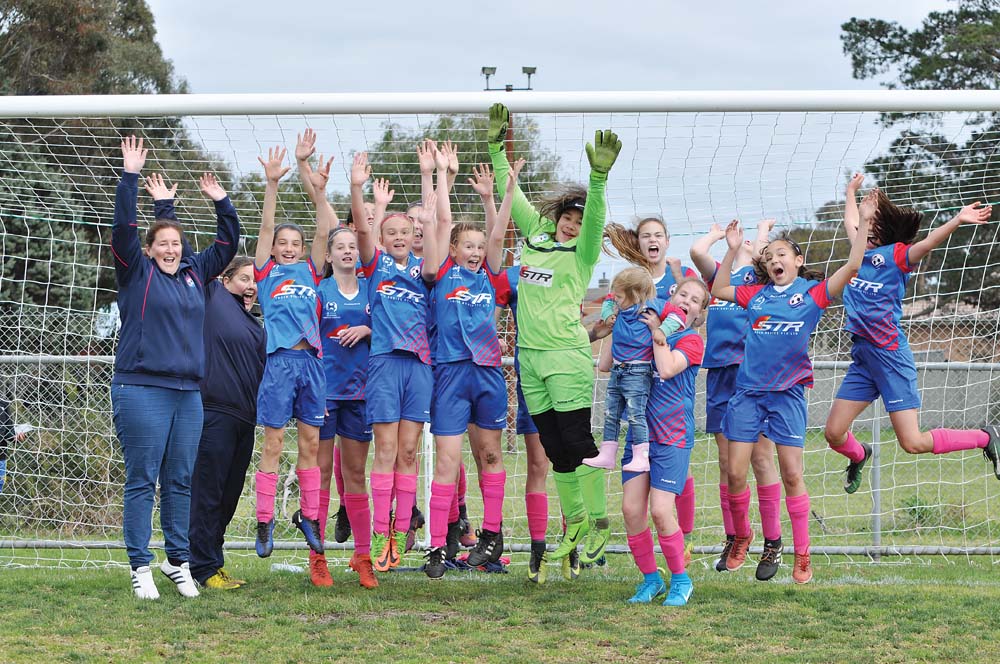 By Craig MacKenzie
SOUTHERN United's under-13s clinched the NPLW championship with a 2-0 win over Geelong Galaxy United at Monterey Reserve on Saturday and are zeroing in on a finals campaign that could end in glory.
Southern's title success with two league games remaining has secured a home final and a win in that match on Saturday 16 September will take Debbie Nichols' and Emma Bracken's charges into the 2017 Grand Final on Sunday 1 October.
Ace predator and leading league scorer Rhys McKenna missed Saturday's success due to trials for the State cricket squad and Nichols and Bracken tinkered with their selection playing Talia Palmer in a forward role wide left with Candy Kilderry as central striker.
Gun central midfielder Alessandra Davis started on the bench such was the confidence in the Southern camp.
Palmer opened the scoring in the 11th minute striking a firm left foot shot from just outside the area that gave Galaxy keeper Elizabeth Kefaloukos no chance.
A great turn and a superb right-foot finish by Kilderry in the 20th minute put Southern firmly in control.
Southern's defence was immense with Ezal Duyar and terrier-like Shauna Mitchell controlling the wide areas with Taylah Hennekam and Alex Jones forming a strong central defensive combination.
Southern started the second half by making a series of positional switches with Palmer linking with Hennekam who had an outstanding game.
Davis was introduced to the contest and immediately her control and precision passing were evident and Southern's organisation and discipline proved too much for Galaxy to break down.
In the under-15s contest on Saturday the visitors from Geelong overturned a 3-1 deficit to record a stunning 5-3 win.
Aaron Myatt's side jumped Galaxy early when central midfielder Anastassia Pusca received the ball from a short corner, skipped past two opponents as she cut inside from the left and from the edge of the area unleashed a shot that sailed past Kefaloukos who like her Southern counterpart Cadence Vakacavu was doubling up after goalkeeping duties in the under-13 contest.
A couple of minutes later Galaxy's Lily Guest burst through but Vakacavu did well to smother and in the 15th minute classy Galaxy striker Katelene Cook broke clear only to shoot wide.
Cook's diminutive frame belies her enormous talent.
Her pace and close control combined with her football nous when she bends her diagonal runs as she toys with offside are a constant menace.
Galaxy equalised in the 26th minute through a low first-time shot from Coco Cummins but Southern hit back in the 32nd minute when the pacy Monique Lapenta capitalised on a defensive blunder with a low strike that restored the home team's lead.
A cross from Briana Dias on the stroke of half-time slipped out of the grasp of a diving Kefaloukas and MacKenzie Hicks' tap-in gave Southern a two-goal lead at the break.
Eight minutes into the second stanza Guest again burst through but Vakacavu did well to smother then gather.
But three goals in nine madcap minutes turned this contest on its head.
Galaxy's Marcella Fierro was given too much room and made Southern pay with a neat finish in the 45th minute to make it 3-2.
Four minutes later Cook finished a stunning solo run into the Southern area with a firm low shot that went in off the far post and in the 54th minute the pocket rocket put her side ahead for the first time in the contest with a shot that Vakacavu got both hands to but couldn't stop.
The sealer came in the 70th minute when Cook chipped the ball forward to Ashleigh Pickett whose first touch brought the ball down and with her second she half-volleyed it past a helpless Vakacavu and into the roof of the net to complete the scoreline.
Southern's under 18s are fixed firmly to the foot of the league ladder but non-partisan observers on Saturday could be excused for thinking that George Perpina's side was challenging for a finals berth.
Kallista Zelios broke clear into a one-on-one with Galaxy keeper Samantha Dunstan and finished well to give the home side a 1-0 lead in the 8th minute.
Southern's Charlotte Chard shot wide a few minutes later and Galaxy's Alexandria Murphy did likewise in the 22nd minute.
Southern keeper Celia Kelsall was off her line in a flash to dive down bravely and smother as Galaxy's Zoe Tizard threatened in the 30th minute and Chard was through three minutes before the interval but couldn't connect cleanly with her shot.
Southern switched keepers during the half-time break with Amelie Delord replacing Kelsall.
A significant change for Galaxy at the start of the second period was the appearance of Cook up front fresh from her under-15 exploits.
In the 51st minute, Delord couldn't hold onto a Cook cross from the right and Tess Rhodes levelled from close range.
Chard again broke through in the 61st minute but Dunstan smothered superbly then a minute later Delord spilled Georgia Atkinson's free kick but reacted in a flash to block a close range shot then gather the rebound.
Cook and Tizard exchanged passes in the 75th minute before Cook's shot bounced off the top of the bar and over.
Cook shot wide of the far post in the 82nd minute then when Delord came out of goal three minutes later but couldn't gather Tizard struck the winner in off the far post.
Southern's seniors staged a thrilling come-from-behind 2-1 win over finals-bound Galaxy in an absorbing contest.
Two minutes in and Southern ace Candela Ferreyra Bas shot wide when well positioned and although Southern had hit the ground running it was taken aback when defensive mainstay Mikhaila Bowden gave the ball away in the 19th minute which stranded Southern keeper Christine Fonua and allowed Kariah White to pass the ball into the gaping goal for the opener.
Ferreyra Bas shot wide a minute later and in the 26th minute Galaxy's Whitney Knight broke clear but shot wide.
Galaxy keeper Emile Kenshole did well to save a low Ferreyra Bas shot at the near post in the 29th minute and Ferreyra Bas broke through three minutes later only to shoot into the side netting.
A brilliant solo run by Southern's Jessica Au in the 43rd minute went unrewarded when her shot was tipped over by Kenshole.
Southern kept pressing in the second half and shots by Ferreyra Bas in the 51st and 52nd minutes were saved by Kenshole.
The breakthrough the home side was seeking came in the 57th minute when a Ferreyra Bas cross from the right picked out US import Courtney Heuston who hammered the ball past Kenshole from close range.
Heuston turned provider in the 67th minute when her cross from the left was sidefooted first time by the incoming Natasha Dakic who could only look on in dismay as the ball struck the far post and was scrambled clear.
But Southern's persistence paid off with five minutes to go when a long ball by Taylah Evans put Ferreyra Bas clear and she made no mistake with a firm shot from inside the area for the winner.
The only senior men's game in the local area saw Somerville Eagles draw 0-0 with Pakenham United at Somerville Secondary College on Saturday.
It was a gutsy effort by Somerville as Pat Acha was red carded in the 24th minute.
Somerville now is five points clear of the relegation zone with two games remaining.
This weekend promises to deliver a feast of exciting football with the State 1 South-East title race on in earnest while Skye United's promotion hopes are on the line and Peninsula Strikers have another chance of moving out of the relegation zone.
This weekend's games:
SATURDAY 3pm: Heidelberg Utd v Southern Utd (Olympic Village, U13s 10am, U15s 11.30am, U18s 1pm), Langwarrin v Clifton Hill (Lawton Park), Mornington v Malvern City (Dallas Brooks Park), Seaford Utd v Berwick City (North Seaford Reserve), Collingwood City v Skye Utd (Kevin Bartlett Reserve), Monash Uni v Baxter (Monash University Playing Fields), Harrisfield Hurricanes v Rosebud Heart (Alex Nelson Reserve), Rowville Eagles v Somerville Eagles (Rowville Secondary College).
SATURDAY 7pm: Heatherton Utd v Frankston Pines (Bosnia & Herzegovina Centre).
SUNDAY 3pm: Peninsula Strikers v North Caulfield (Centenary Park).