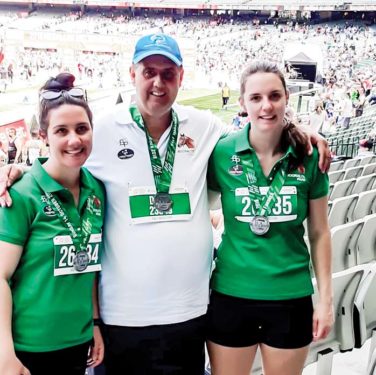 DYSTONIA sufferer Dave Smith has made good on his promise to raise money on the Brain Foundation-Dystonia Walk earlier this month.
He and daughters Ebony and Lisa, right, competed in the Melbourne Half Marathon walking the 21.1km to achieve his goal.
Mr Smith's struggle with the condition and efforts to get into shape generated a positive message ("Walk aims to shake off debilitating disorder" The News 10/9/18).
"We started at 8am with all of the other competitors but it wasn't long before we were walking by ourselves up St Kilda Road as the other competitors were running at a good pace," Mr Smith said.
"We got to the nine kilometre mark and the drink station had packed up and I was struggling with the heat," he said. "I asked if there were any drinks as I was about to say I had enough but, fortunately, a lady ran to her bag and got two bottles of water which was a lifesaver.
"We got through 10 kilometres in just under two hours so we were still going OK, but without my girls with me I would have given up by then. They kept encouraging me and telling me that all of the hard work that I had done would help.
"At the 14 kilometre mark we joined back up with the full marathon. I had perked up a bit as we now had others around us. Then, on the hill down St Kilda Road I knew that all the training would get us to the G."
Mr Smith praised the other participants for their encouragement. "When we got to the entrance of the hallowed turf it was all worthwhile – especially with my support crew decked out in their green Brain Foundation Dystonia gear.
"It made our final lap very memorable."
Fundraising is open until Wednesday 14 November. "If people can spare a few dollars for Dave's Dystonia Walk they can donate by hitting the Give Now button," he said.
First published in the Southern Peninsula News – 23 October 2018