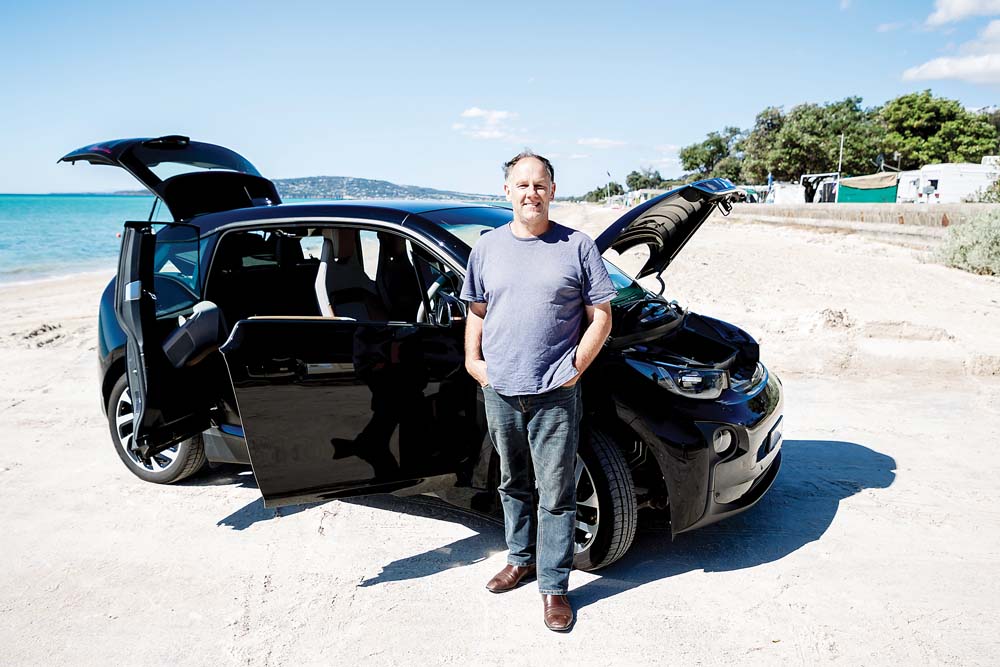 DON'T mention gas, coal or oil to the Brooks family of Dromana.
They've made a conscious decision to distance themselves from those passe fossil fuels and, instead, are gearing for an all-electric future.
Simon, the Mornington Peninsula Shire councillor, and his wife Allison are "keen to do their bit" to reduce their carbon footprint by buying an electric car, installing electric appliances, electric heating and cooling and roof-top solar panels.
"As a councillor I've made it a focus to become even more informed about climate change and how practical steps can be taken by everyone to reduce our carbon footprint," Cr Brooks said.
"It is at a local level where action needs to occur and council is working to not only bring its own emissions down, but also help the community and businesses do the same, as well as adapt to the emerging climate change impacts.
"We're finishing renovations to our home and decided to replace our aging gas appliances with high-efficiency electrics."
The changes at home include inverter air conditioning for heating and cooling, electric hot water heat pump and induction cook-top."
The forward-thinking family has also upgraded their home's insulation, are converting their lighting to LEDs and taken other measures to reduce their energy use.
"The upfront costs of some of these improvements are modest; others are higher," Cr Brooks said. "However, spread over time there is a break-even point and then you are in front."
He said the challenge for the community was in deciding how to assist those with less capacity to fund these types of initiatives that will ultimately save them money.
"Understanding that most of our electricity comes from brown coal generation we have also installed solar panels on our roof and are about to expand this to produce as much as we can.
"This is now more important as, last May, we purchased an electric car that we plug-in and charge at home."
The car had been a "revelation".
"The BMW i3 was one of only two smaller electric vehicles available [here] at the time. It has a 200-kilometre battery range and a further 150-kilometre range with an on-board generator or 'range extender'."
By 2020-21 new models would have double the range which "shows how quickly technology is moving" and the installation of electric car chargers on highways would increase practicality.
"About 99 per cent of the time we only use the battery, regularly driving to Melbourne and back on a single charge," Cr Brooks said.
"However, the range extender allows the car to be used as a hybrid for longer trips if required. We've only put petrol in the nine-litre fuel tank half a dozen times.
"In January my wife drove the i3 to Echuca using the battery and the range extender. As the network of public charging stations increases the need for the range extender will decrease."
Cr Brooks said even with a higher upfront cost of the mid-$50,000s, the car's lower running costs meant the total cost of ownership was very close to that of a petrol or diesel equivalent and less than the larger SUV they replaced.
"With the cost of batteries falling and their capacity (and range) increasing it will soon be cheaper to purchase and a lot cheaper to run electric vehicles," he said.
Cr Brooks said he had been encouraging his fellow councillors and officers to look at introducing electric vehicles into the shire's fleet. "We have been trialling a variety of smaller cars, including the BMW i3, Renault Zoe, and Hyundai Ioniq, as well as the small Renault Kangoo van, and measuring their suitability against our day-to day-needs.
He said more models were on the way. "We need to be ready. We are a bit of a backwater and it is going to hit us fairly quickly."
First published in the Southern Peninsula News – 19 February 2019