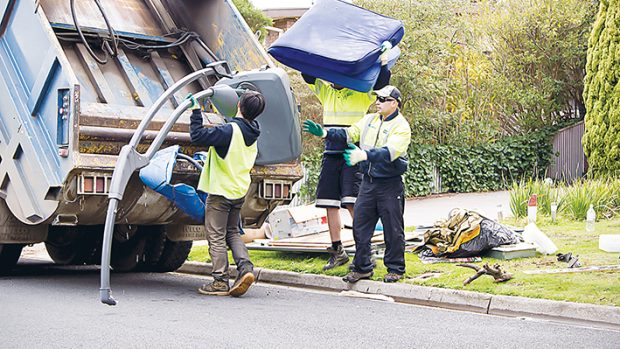 BOGUS pamphlets advertising a free hard waste collection in Mornington last Monday had shire officers – and residents – scratching their heads.
Neither the pamphlets – nor the hard waste collection – was organised by the shire.
But, as a result, hundreds of residents mistakenly placed hard waste on their nature strips – and now many have had to take it back inside or arrange to dispose of it through the shire's hard waste collection services.
Residents said "professional-looking" pamphlets were dropped into letterboxes around the Nepean Highway-Bentons Rd area, fooling them into thinking the council was planning an unscheduled – but welcome – collection.
It's is believed the scammers were after free household goods and scrap metal and some of those handing out leaflets were later seen fossicking through items and choosing anything resaleable.
The shire says it first became aware of the scam when angry locals called asking when the waste would eventually be collected.
It regards the hoax as a warning to other households, with Claire Smith, the manager of environment protection & community safety, telling Channel 7 News: "Certainly, if you get something like this have a good look at it and make sure it has a council logo and phone number to ring. This one doesn't have any of those things on it."
The matter has been referred to police.
The shire began using contractors last Friday to collect whatever rubbish remained outside "in these exceptional circumstances". A spokesman said there would be no extra charge to ratepayers – or costs to the council – as shire contractors routinely picked up dumped rubbish, or rubbish left out by residents, on an "at call" basis.
When our photographer arrived on the scene on Friday rubbish was still piled high on some nature strips.
The shire asks anyone with information to phone them on 1300 850 600.
Residents can book a waste collection through the hard waste 'at call' collection service on 5950 1406 using waste vouchers attached to their rates notices.
Alternatively, residents may take hard waste to the Mornington Recycle Shop – some of which will be accepted free of charge – or to one of the shire's resource recovery centres at Mornington, Tyabb or Rye, or to a local rubbish hopper.