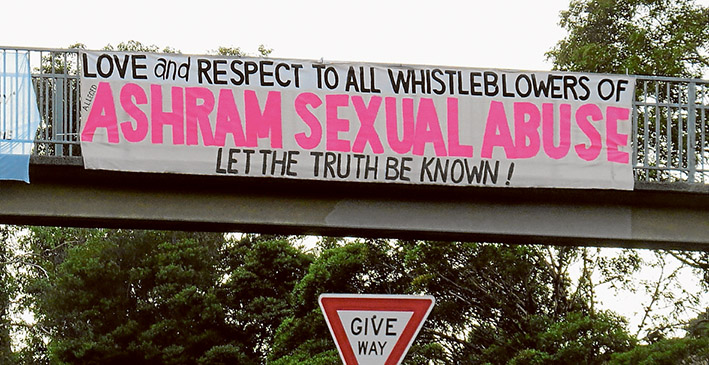 RUMOURS of the imminent closure or liquidation of the Shiva School of Meditation and Yoga heightened last week in the face of an ongoing police investigation, threat of a class action and suspension of its accredited yoga teacher training course.
Signs have been removed from the school's ashram in Tower Rd, Mt Eliza, and former residents have reportedly been told they have until Tuesday to remove any belongings.
Police from the Seaford-based SOCIT (Sexual Offences and Child Abuse Investigation Teams) on Thursday confirmed they are investigating allegations of sexual assault. St Kilda lawyer Angela Sdrinis is launching a class action following last December's announcement by the school that its founder, Russell Kruckman, also known as Swami Shankarananda and Swamiji, "has had secret sexual relations with a number of women from the ashram community".
At the same time Mr Kruckman, in a statement signed Swamiji, expressed regret and remorse for his actions and said he "profoundly underestimated the impact" of tantric sexual activities.
"I recognise at last their disastrous effect. I vow to stop this behaviour," Mr Kruckman said.
The school's management committee last week said "in light of the criminal investigation that is being conducted" it has asked Swami Shankarananda to "retire from Shiva Yoga".
Former followers of the swami have told The News they believe Shiva Yoga Inc will this week go into voluntary liquidation.
Financial statements for the year ended June 2014 of the tax-exempt Shiva Yoga Inc show it owns three properties near the ashram collectively valued at just under $3 million in Clarendon Close and Petrel Ave.
The statements show $1.38m has been spent improving the ashram building in Tower Rd. The "total comprehensive income attributable to members" is $181,300.
The former followers say they believe the more valuable property housing the ashram in Tower Rd is owned by Swami Shankarananda.
Revenue is listed on Shiva Yoga Inc's financial statements as being $1.07m, with Swami Shankarananda shown as having loaned the organisation $373,508. The statements shows "retained earnings" of $2.9m.
The statements show $1.38m was spent on "structural improvements" to the Tower Rd property.
Spokesman for the Shiva School, Stephen Stanford, twice last week declined to reply to questions from The News saying lawyer David Galbally was handling media inquiries.
Mr Galbally said he was providing corporate legal advice to Shiva Yoga Inc but could not provide details about properties owned by the organisation.
He said on Thursday that the organisation was not in liquidation, a move that could only be determined by its members. Mr Galbally said he did not know how many members Shiva Yoga Inc had.
Yoga Australia last week said it had withdrawn Shiva Yoga's accreditation for its yoga teacher training course but "will continue to offer support to the students of the course and will register those who have completed the course as yoga teachers".
"We want to reaffirm that the actions and admissions of Swami Shankarananda go against all policies and procedures put in place by our association and the ethical code of practice yoga teachers abide by," Yoga Australia stated.
"This incident further instils the need for us to put into place a regulatory framework for our profession, similar to that of other allied health professions.
"We remind you that Swami Shanka­rananda is not a member or registered teacher of Yoga Australia, however Shiva Yoga offer a teacher training course that has now been suspended by Yoga Australia pending the police investigations."
The revelations in December and offers of free counselling for anyone affected by the school's leader did little to quell the anger of hundreds of his followers who stopped their regular attendances at the school's compound in Tower Rd.
One disaffected former attendee of Shiva School described the counselling as "data collection, so they know what everyone was saying: I haven't seen any of the promised transparency".
Another former member of the ashram of more than a decade said things were "happening so quickly that the community [of former members] has too little time to respond".
There was anger over the potential disposal of assets gained through donations or work provide for free.
St Kilda-based lawyer Angela Sdrinis said she had notified both Shiva Yoga Inc and Swami Shankarananda in writing that investigations were underway into launching a possible class action over alleged sexual abuse and physical injuries.
A website for Ms Sdrinis describes her as a "personal injuries accredited specialist and expert in Comcare and sexual and institutional abuse".
Ms Sdrinis she was investigating allegations by "about half a dozen" women and was receiving "two or three" inquiries a day from other potential claimants.
Claims about misused donations and unpaid work were being referred to other lawyers.
Ms Sdrinis said she had written to Shiva Yoga Inc and Swami Shankarananda asking that they not dispose of any assets.
"I understand the liquidator [who may be appointed] is very reputable and, I imagine, would be very reluctant to take such steps without telling us," she said.
A former ashram member said some of the women leaving the ashram's accommodation were being helped by friends "because they have nowhere to go".
Most were also now referring to Swami Shankarananda as Russell, rather than give him the dignity and elevation of the title Swamiji.
"They call him Russell because it brings him down to earth," the woman said. "Swamiji gives him a status they don't believe he deserves.
"There has been a huge loss of trust. I feel like a trauma victim. I trusted him, but how gullible am I?
"It feels like there's been a death in my family."