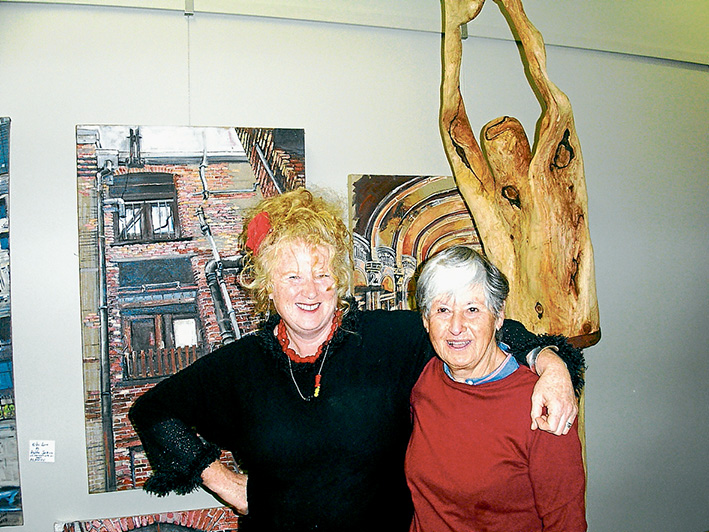 A GROUP of peninsula artists is promoting art as the 'third leg' of peninsula tourism to join the region's well-established food and wine industries.
They have set up Red Artists Gallery, a showcase for the work of artists, sculptors, printmakers and jewellery makers at Red Hill South in part of the former post office building. (The PO moved next door to the Cellar & Pantry store last July.)
One of the group, sculptor Jean Sheridan, said Red Hill was the hub of one of Victoria's most creative communities.
"We have more artists, sculptors, printmakers and jewellery makers per head of population than in any of Melbourne's inner suburbs," she said.
"They are producing work across the whole spectrum – from expensive and durable art to playful, creative trinkets – and this should be an asset to the region."
She said the gallery was an "Aladdin's cave of local art and artefacts".
"There is towering sculpture transforming a branching tree into an AFL footballer going for a mark. The walls are covered in an array of paintings and prints, and the counters and floor space host everything from jewellery and clothing to handmade cards," Ms Sheridan said.
"We wanted to reflect the creative energy of the region as well as do something for the next generation of artists. One of our goals is to support school programs and sponsor promising artists to further their art education."
The gallery opens onto the deck of Red Hill Bakery. "We hope the diversity of the displays will attract people, helping to create a new tourist hub."
The group includes Ms Sheridan as well as Ann-Heather White (painter), Warren Cooke (a printmaker who also exhibits drawings and clothing), Nick Robertson (artist and printmaker), Neil Uren (wooden toys, lights and pictures), Andrea Jenkins (painter), Alf Evans (artist and printmaker), Lisa Warrington (glass blower) and Margaret Peppard who runs workshops and develops public art.
Seven other local artists supply paintings, drawings, sculptures, jewellery, clothing and leatherwork.
"Most of the key artists have had shows at mainstream galleries, but this is the first time we've been able to bring all their work together locally," Ms Sheridan said.