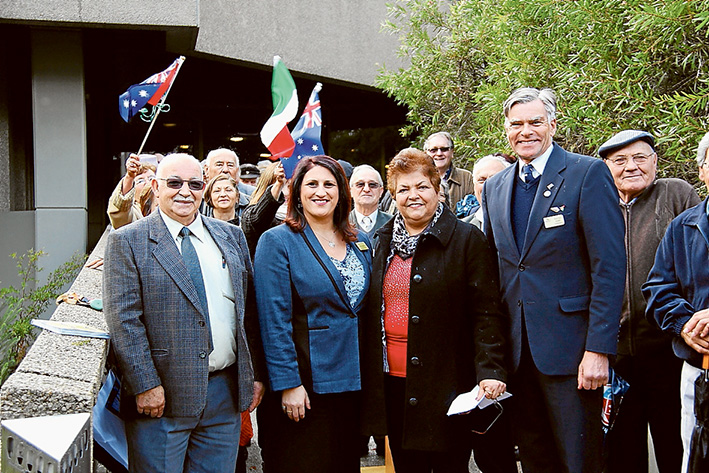 A CEREMONY recognising the 69th anniversary of the Italian Republic drew about 60 residents to the shire's Rosebud office on Tuesday.
"Italians have made an important and long-lasting contribution to Australia as a nation for many, many decades," Cr David Gibb said.
"Today, Italian Australians are prominent in politics, sport, journalism, law and the arts, and have considerable influence on the growth of Australia's construction, food, wine, fishing and tourism industries."
The Rosebud Italian Club's Lorenzo D'Alia said Italians were grateful "knowing that we have contributed to the development of this country, and consider ourselves fortunate to live our tranquil lives in our second home Australia – but never forgetting our motherland – Italy".
Cr Antonella Celi, who has Italian heritage, spoke in Italian. "Today, we come together to celebrate 69 years of the Italian republic and, as Italians who have built a prosperous life in this great nation of Australia, we proudly remember our Italian heritage as we raise the Italian flag in honour of this day."
Festa della Repubblica – the Italian National Day and Republic Day – is celebrated on 2 June each year.
Shire communications manager Todd Trimble said the shire had been asked by the Rosebud Italian Club to stage the flag.
He said a similar ceremony had been held at the request of a Greek group in years gone by.
"If an English ex-pats' group, or any other group, requests a similar service, I am sure we would assist them," Mr Trimble said. 
First published in the Southern Peninsula News – 9 June 2015