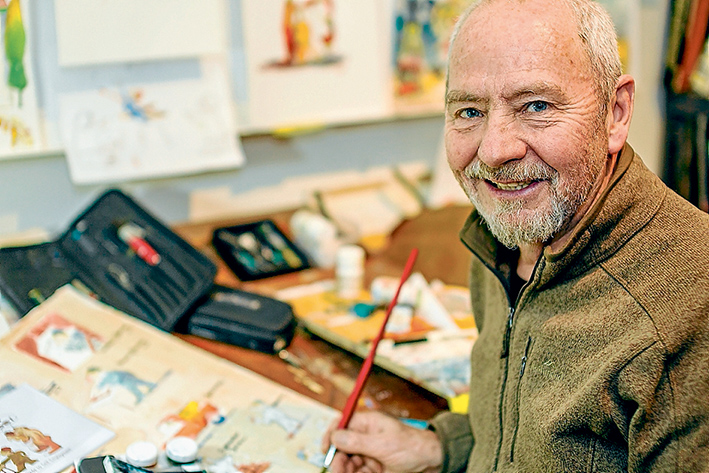 AUTHOR and illustrator Michael Leeworthy wants to help people find work.
He believes everyone has skills and with a bit of soul searching and encouragement can market their natural abilities.
Hired "to motivate people" by agencies running Work for the Dole projects, Leeworthy says the experience has shown him that "everyone has skills and they need to sit down and make a list of what they area".
No stranger to trying to find work himself, Leeworthy describes himself as "a dropout at 16" but says he never collected unemployment benefits.
He had a willingness to try his hand at any job and says his list includes window dresser, interior decorator, sign writing management, artist, dishwasher, fencer, sign Installer, alfalfa sprout salesman, clothing rep, window cleaner, cartage contractor, encyclopedia salesman, male model, artist, cartoonist and house builder.
"I'm enthusiastic. I'm a workaholic, running two art galleries and working in schools," Leeworthy says.
His time with Work for the Dole has inspired him to produce a Get a Job handbook, a "basic guide to self-employment".
Leeworthy says he pleaded with his parents to send him to art school, but they wanted him to get a "proper job".
His gallery at Red Hill is "a dream finally in fruition".
He sees "serious thinking about how to feed his family of five" while recuperating after a car accident as "the pivotal point" in his life.
Get a Job is designed "for people like myself, early school leavers or simply people who would like to give it a go and gain financial independence".
He says it is written in a "simple-to-follow" way manner, with 40 pages and 32 illustrations.
"It covers areas like, dressing for the part and actual ways of getting the work," Leeworthy says.
"The main point is that we all have skills, skills that we take for granted, that can be turned into a business.
"It is designed to help people take the leap and take control of their work lives, whether it be for people starting from scratch, early school leavers or bridging the gap from your fulltime job."
Leeworthy looked to his son Jesse for his next step towards publishing.
Jesse and his friend Jonathan Byrt last year sought backing for a new style of water bottle on the crowd funding website Kickstarter.
They needed $15,000 to get their Memo Bottle underway and were staggered when investors offered more than $220,000.
The Memo Bottle is now being produced in Thailand.
Leeworthy is aiming for a more modest $2000 for the initial print run of Get a Job and will soon list his idea on Kickstarter.
Meanwhile, anyone wanting to know more about his project can go to Get a Job on Facebook or call his Red Hill studio on 5989 2776.
First published in the Southern Peninsula News – 7 July 2015