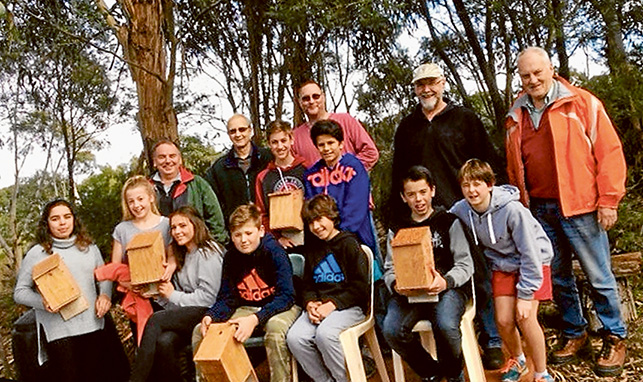 REAL Time Learning students at Mt Eliza Secondary College have been working with Mornington Men's Shed members to build homes for microbats.
Teacher Narelle Debenham said microbats –hibernating for winter – were an important part of the ecosystem. The bat range from being about the size of a 10 cent coin to that of a small mouse.
Microbats eat pest insects, including lawn grub moths, weevils, beetles, midges, flying termites and mosquitos.
But competition from birds, possums and gliders, along with the clearing of many old trees, has meant their habitat is scarce.
Eleven year 7 students joined five shed members to make roosting boxes. Three will be placed in tall native trees along the Balcombe Creek trail running parallel with Century Drive, Mt Martha, one will be on a Landcare property owned by environmental naturalist Tony O'Connor, and another in the school grounds. They will all be in place for the bat breeding season in the spring.
To help injured wildlife call AWARE wildlife rescue, 0412 433 727. A pattern for bat nesting boxes is at backyardbuddies.net.au/for-mammals or email ndebenham@mesc.vic.edu.au