NEPEAN LEAGUE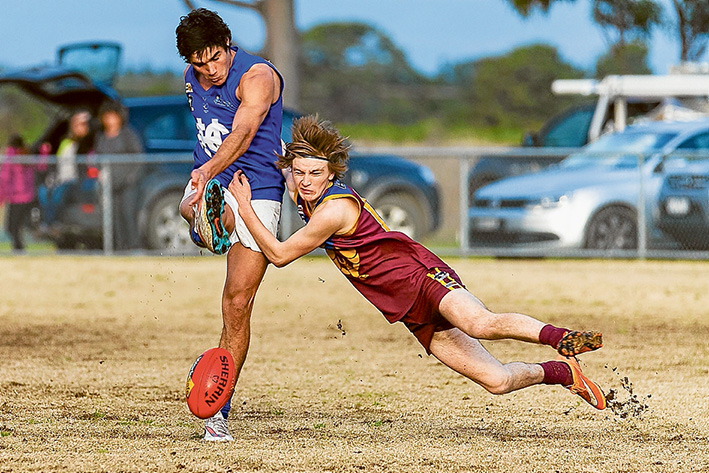 DROMANA caused the upset of the season on Saturday in Nepean League, leading all afternoon to beat Rye by 11 points.
At one stage in the third quarter, the Tigers led by as much as 51 points.
It's been a tough year for the Tigers but they have continuously proved that their best is good enough to match it with the best in the competition.
On Saturday at Dromana Recreation Reserve, they jumped the Demons and led by 11 points at quarter time and 10 points at the main change.
Billy Quigley was a real handful for the opposition in attack with five goals, Matt Jones was at his best and former Demons Braeden Dennis was getting under the guard of the opposition and finished with three goals.
Rohan Bleeker had a break-out game for the Tigers and proved he belongs at the top level and Christian Ongarello controlled the match from the back half.
The Demons came flying home in the last quarter with a seven goal to three term, however, they still fell short 15.19 (109) to 18.12 (120).
While the result was sensational for Dromana, the real story was 'what happened to Rye'?
Nathan Henley was sensational with five goals and Ryan Mullett dominated through the middle. Adam Kirkwood provided plenty of drive, Sam Smith had an impact, Rhett Sutton regained some form and Ben Holmes booted three goals.
With that kind of output from some of their better players, you would have expected a win, not a loss.
Rye coach Josh Moore was shattered on Sunday following the match.
"I don't take losing very well," said Moore.
"The difference between the two teams was simply they wanted it more.
"We pride ourselves on effort and when we give it, we win more often than not. We just didn't give it on Saturday and Dromana was better than us.
"It's a massive reality check. We may look back on it and say it was a good thing to happen.
"Rehab was good on Sunday and we were very galvanised at the conclusion. I hate losing but it might be the kick start we need at the right time, " said Moore.
Somerville got things back on track to an extent on Saturday, turning around a sloppy first quarter to get the job done against Frankston Bombers.
The Eagles trailed by two points at quarter time but booted 13 goals to eight after the first break to celebrate a commanding 16.13 (109) to 12.7 (79) victory.
Tom Shaw and Scott Simpson booted four goals each for the Eagles while Timmy McGenniss again dominated. Ben Sedgwick and Josh Westerman also challenged for the top votes.
James Degenhardt was outstanding for the Bombers with three goals while Matt Harris and Jason Kingsbury also worked tirelessly.
Sorrento, as expected, made light work of Pearcedale, winning 24.12 (156) to 6.6 (42).
Myles Pitt booted 10 goals while a further 12 players hit the scoreboard. Leigh Treeby, arguably the best in the business, was best on the ground.
Brendan Neville and Glenn Anderson worked hard for the Dales.
Devon Meadows celebrated coach Glenn Michie's 300th game in fine style on Saturday, dominating the second hour to beat Crib Point 17.14 (116) to 7.12 (54).
Troy Aust finished with three goals for the Meadows while Michie was one of five players to kick two goals for the winners.
Jesse Dehey and Billy Hayes were outstanding for the winners.
Zac Condick, Brad Arnold and James Cook were tireless for the Pies.
Luke Clark booted 10 goals for Hastings as they bounced back against Tyabb, winning 30.21 (201) to 3.6 (24).
Lance Brouwer and the underrated Chris Biviano were exceptional for the Blues, while Colin McVeigh was also at his best.
Michael Frost and Adrian Clay were the best of the Yabbies.
Rosebud and Red Hill had the bye.