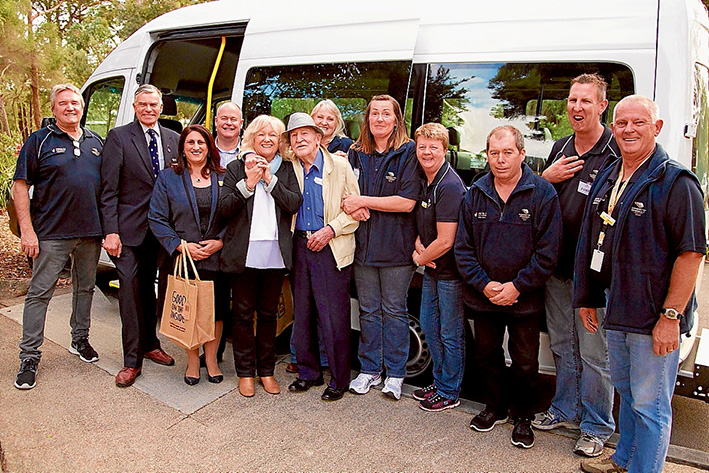 MORNINGTON Peninsula Shire's Dial-A-Bus service is 10.
Starting with three passengers – collected by the shire's aged and disability transport team leader on her way to work – it has grown into a dial-up service to all areas of the shire servicing 520 regular passengers.
It offers those aged over 60, or those of any age who have a disability (and their carer), a door-to-door transport option across the peninsula.
Around 70 Dial-A-Bus passengers celebrated the service's 10th birthday at the shire's Rosebud office on Thursday 3 September.
The mayor Cr Bev Colomb said the first Dial-A-Bus service began collecting passengers in the Balnarring through to Hastings areas.
"The service changed the previous senior citizens' club-focused transport to anyone aged over 60 or anyone with a disability," she said. "This has helped many of our passengers remain independent and engaged, helping them to continue to live in their own home for longer.
"The Dial-A-Bus been successful in providing local area transport to shops and doctors and the like – and it has become a conduit for socialisation with other bus passengers."
Passengers are picked up from any address in the service area, and delivered anywhere in the same service area. These areas include Portsea, Sorrento, Blairgowrie to Rosebud, Mt Martha to Mornington, Rye to Rosebud, Balnarring to Hastings, Dromana, McCrae to Rosebud, Red Hill to Hastings, Flinders to Hastings, Somerville, Tyabb, Safety Beach to Mornington, McCrae, Rosebud, Mt Eliza to Mornington and Mornington.
Passengers pay $1 each way. They need to be independent and mobile, with wheelchairs and mobility aids allowed.
Bookings: call 5950 1605 or visit mornpen.vic.gov.au/Dial_A_Bus.
They must be made by 10am on the business day before the day of travel.