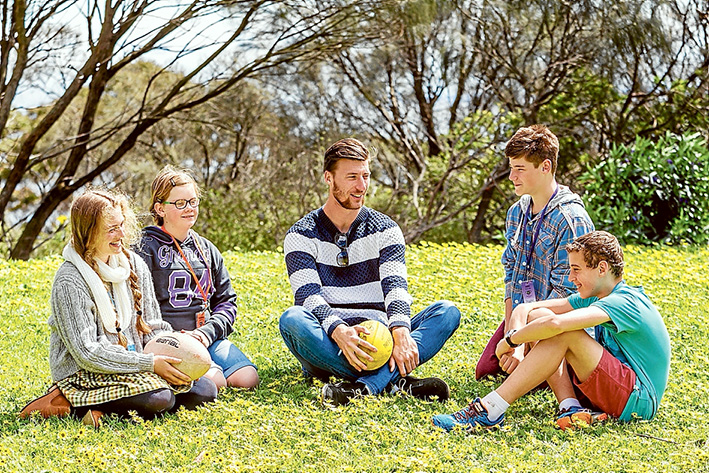 FOUR teenagers with diabetes received some welcome inspiration from former AFL player Jack Fitzpatrick in Mt Eliza last week.
Ben McVea, 15, of Langwarrin, Imogen Price, 12, of Somerville, Caleb Govan, 12, of Pearcedale and Billie Angelone, 14, of Parkdale, were participants in a four-day Diabetes Victoria senior camp at Camp Manyung, Mt Eliza.
They are learning how to live well with type 1 diabetes in a fun, safe and supportive environment, and shared a culture of independence through adventure.
Billie Angelone was diagnosed in July 2005 when she was four. She used to cry every time she had to inject insulin, which was hard for her parents to watch.
Billie can't remember life without diabetes and is having a fun time at camp.
"At home, I don't have any friends who have diabetes," she said.
"It's great to meet others and to receive so much support."
She's keen to catch up with her new friends after returning home and to stay in touch through social media.
She says people at home accept her diabetes but don't necessarily understand what it's like to live with the condition every day. She greatly enjoyed meeting professional football player Jack Fitzpatrick.
"It was inspiring to hear his story," Billie said. "It's really motivating to hear how he manages his diabetes to live a full and happy life. There's nothing you can't do if you have diabetes."
Billie believes the world is her stage and loves performing in school productions, dance, school aerobics and drama.
Caleb Govan was diagnosed in October 2012. "Initially, the shock was quite overwhelming and it took some time and many tears to get our heads around it," said his mum Rebecca, a busy mother of five.
"There are no days off with diabetes but we have found that, as we accepted the diagnoses, it just became part of our everyday life."
Caleb has been really excited about going to the camp – and has found it even better than he imagined: "I am rapt to be here for the first time. I have learned new things about diabetes and have met great people." He plans to stay in touch with new buddy Ben McVea after camp.
Caleb said he wished he didn't have diabetes but still has a positive attitude: "I don't hate it, I don't like it. You just have to live with it."
Caleb loved meeting Jack Fitzpatrick and was inspired at hearing his personal story. "If you can do that, you really can do anything. The sky is your limit," he said.
A keen "builder", Caleb is an active boy who loves playing on the family poultry farm where there is always "something fun" to keep him occupied.
Imogen Price was only three when she was diagnosed. "We felt scared and overwhelmed at the time," her mum Amanda Cox said. "It felt like all of our life became about Imogen."
Today, almost 10 years later, Imogen is living well with her diabetes: "It's just a matter of control," the 12-year old said.
Imogen has had "tons of fun" at the camp and loves to socialise: "It's fantastic to meet others with diabetes and to hear their stories."
Imogen loves ballroom dancing, reading and writing in her free time.
In 2006, when Ben McVea was diagnosed, his parents Lesley and Ross felt overwhelmed. The diagnosis started a big learning process. Now, the family takes each day as it comes and tries not overreact to the highs and lows.
Ben is a passionate footy player and had great fun meeting Fitzpatrick.
Fitzpatrick said living with type 1 diabetes "can be frustrating sometimes".
"When I was diagnosed three years ago, it was quite confronting to hear that I would have to have multiple insulin injections every day for the rest of my life.
"But life with diabetes doesn't have to be a struggle. I absolutely believe that diabetes will only ever hold you back if you let it."
About 50 teenagers from all over Victoria spent four days of their school holidays at the camp. They are among 2900 Victorians aged under 18 living with type 1 diabetes. Also attending were various health professionals and diabetes educators.
Diabetes Victoria organises six diabetes camps every year in partnership with the Royal Children's Hospital and Southern Health.