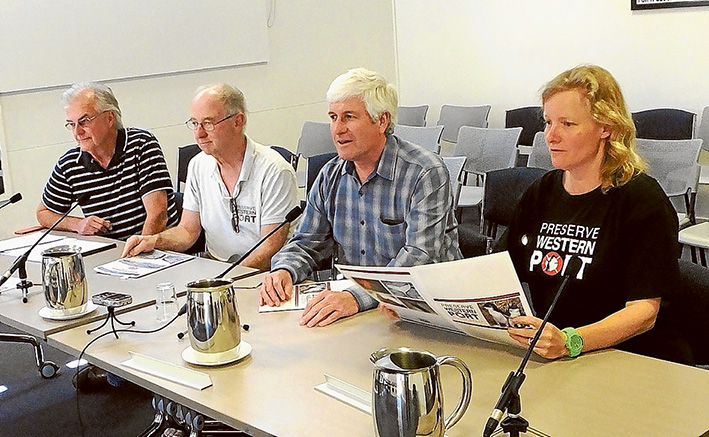 A BUSINESS case for expanding the Port of Hastings should include compensation the owners of property affected by dredging in the bay.
Experts estimate 24 million cubic metres of spoil will be dredged from alongside wharfs and in shipping channels, severely affecting Western Port's marine environment and increasing coastal erosion.
The call to establish a compensation fund was included in a submission by the Preserve Western Port Action Group (PWPAG) to a select committee hearing into the state government's proposed leasing of the Port of Melbourne.
Funding for the government's plan to reduce the number of rail level crossings is expected to come from the 50-year lease, which effectively rules out development of a container port at Hastings.
PWPAG chairman Jeff Nottle said any business case for expanding the port at Hastings "needs to include all the costs that impact on the region".
These impacts included "increased erosion and sediment flows arising from the dredging in a very high tidal flow environment" and the acceleration of erosion "particularly in the north of the bay and on the north shore of Phillip Island".
Mr Nottle said the Shire of Bass had recognised the "just how much of Western Port is at risk of inundation or erosion – and in some cases both – by climate change induced storm surges and sea level rises" by endorsing a planning scheme amendment on Land Subject to Inundation Overlays (C82).
Mr Nottle said the dredging would make things worse than what was being predicted.
Estimates of the dredging required for an expanded port came from Victoria University's supply chain institute while effects on the ecology and erosion came from "one of Australia's leading geomorphologists Associate Professor David Kennedy of the University of Melbourne", who had considered the Victoria University findings and the Western Port Local Coastal Hazard Assessment reports.
Mr Nottle quoted Prof Kennedy as saying "the proposed development is almost certain to have major environmental impacts on the marine and coastal environment of Western Port".
He said Prof Kennedy had stated that "the potential impacts could be more widespread" due top "a general lack of knowledge of sediment transport pathways within the bay".
"This independent specialist analysis brings into focus the potential damage to Western Port properties and coastal foreshores and beaches that will arise from the dredging associated with the construction of a container port at Hastings," Mr Nottle said.
"The erosion and inundation caused will not be gradual and imperceptible, it will be obvious as the Western Port Local Coastal Hazard Assessment reports give us a baseline for erosion and inundation without the dredging for the port.
"We believe all proponents for the construction of a container port at Hastings should support the establishment of a Western Port erosion and compensation fund as part of a business case for Hastings.
"The fund could then be accessed by affected property holders and coastal land managers to restore the coast or to provide compensation."