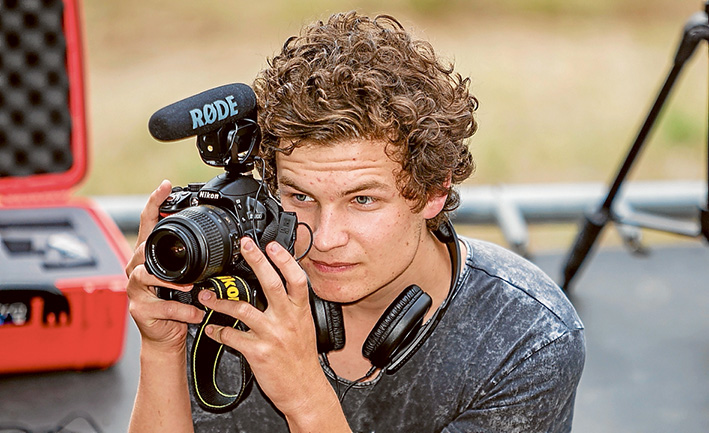 TO some, boxing may seem a strange road to travel in search of peace. But that is exactly the destination where the lessons in life handed out by boxing trainer Ron Smith can lead.
The Mt Eliza-based former professional boxer admits to making mistakes while growing up, but says he learned from those to be a better man.
Now 71, Smith is an advocate for peace, harmony and self-respect; attributes he passes on to people of all ages attending the Mt Eliza Boxing Centre he runs with his wife Sharyn.
The philosophies espoused by Smith resonated so much with Jack Ahern that they are now neatly compressed into a biographic documentary.
Ahern, 18, is a year 12 student at Mt Eliza Secondary College who last year took on accelerated media studies which called for him to produce a short video.
It didn't take him long to realise the potential screen presence of the man who had been teaching him boxing for the previous couple of years.
In that time Smith had become "a second father figure" helping Ahern through some personal issues that "motivated me to be fit and healthy not just in the body but in the mind as well".
"I chose Ron as my subject because I wanted to make my first short film an inspirational story that the audience would find intriguing and that they would be proud of one of their local residents," Ahern now says of The Boxer, a film about the life and philosophy of personal trainer and former professional boxer, Ron Smith.
"With all the violence I hear about in the news I wanted to show young people that it's not the boxing that makes the man, but the man that makes the boxer," Ahern says, quoting one of Smith's axioms.
"I also wanted to expose the life of Ron, as little is known about this local hero and all the work he has done to change the lives of young individuals and put them back on the right path after suffering from issues such as drugs, alcohol, weight and mental health problems."
Smith, a veteran of 108 competition fights and a contemporary of Johnny Famechon, regularly helps the former world champion try to overcome the debilitating effects of being hit by a car 24 years ago.
Using a Nikon D3100 DSLR camera complete with sliders, stabilisers, tripods and external microphones, Ahern spent much of last year producing, filming and editing The Boxer, which overlays an interview with Smith with shots of gym workouts, Smith at home exercising, meditating at the beach and Smith and Famechon.
Ahern acknowledges the "outstanding" support and advice of his media teacher Arturo Tallarida and says he had to look no further than fellow student Jordan Finlay for creating his soundtrack.
"For the original music, A long journey ahead of us, I explained to Jordan what I was after and he came up with an amazing piece," Ahern says. "I spent many, many hours editing the film and I was really pleased with the end result. I have had quite a lot of positive feedback which has been great."
Among the feedback was a commission from a Mt Eliza business for a promotional video, which is now nearing completion.
One of the college's four captains this year, Ahern would like a career in filming.
"I'm attracted to many subjects that I would like to film in the future, I really like the idea of exposing local heroes and telling stories about the Mornington Peninsula for which there are so many stories to tell," he says.
"I would also like to make some underwater and surfing films as the peninsula has some really interesting marine life and outstanding scenery."
And university? Maybe.
"I have learnt so much from making the film about Ron. Not only about how I can improve my techniques but also how much I have been motivated and inspired by my second father who has taught me so much more then boxing, school, fitness, relationships and that the most important thing in life is to be happy and to live healthy."
But the final words, as in the film, should belong to Smith, the man who says boxing opened many doors in his life: "There's far too much aggression in the world today. You need to respect yourself and others."
View The Boxer at: www.youtube.com/watch?v=UzMLGbmUlzc