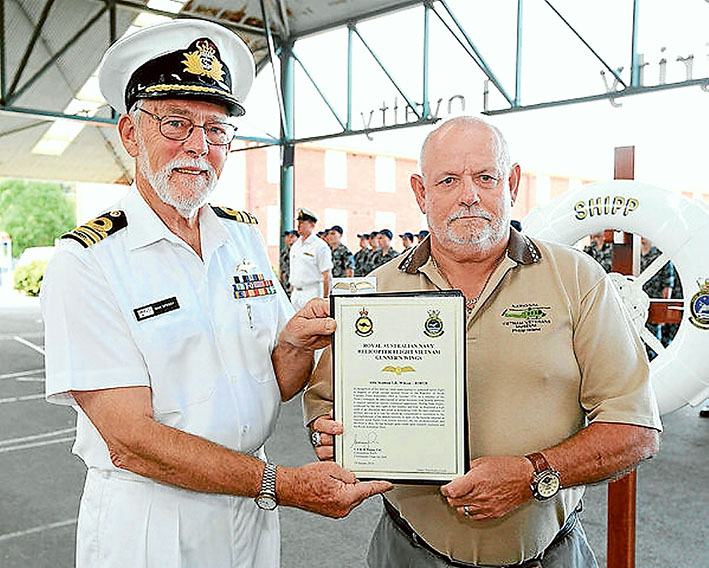 STANDING in the open doorway of a pitching helicopter, spraying machine gun bullets while ducking enemy fire, was once a day at the office for Vietnam war air gunner Ian "Slug" Wilson, of Mornington.
He was one of 40 Royal Australian Navy and nine Australian Army personnel to fly combat missions as door gunners on helicopter troop carriers with the 135th US Army Assault Helicopter Company 1967-1971.
It was dangerous work for the crews and, while the conflict finished a long time ago, this veteran is still coming to grips with the emotional scars that have changed his life.
First it was withstanding the terror of war and flying air missions against a determined enemy, and then it was the ignominy of coming home to an Australia that had turned its back on the war and those who participated.
A presentation ceremony of "retrospective recognition awards" at HMAS Cerberus last week has gone some way towards easing the pain and reuniting those who fought and those who sent them there.
Mr Wilson, one of seven veterans honoured, received his wings and a certificate which reads: "In recognition of service while participating in sustained aerial flight in support of allied combat ground forces in the Republic of South Vietnam.
"During the period, he participated in aerial missions over hostile territory to support operations against communist aggression. During these flights, conducted by day and night, in fair weather and foul, he displayed a high order of air discipline and acted in accordance with the best traditions of military service in a role for which he volunteered to contribute to the accomplishment of the tasked mission, in spite of the hazards inherent in repeated aerial flights over hostile territory.
"By his professionalism and devotion to duty, he has brought great credit upon himself, the Royal Australian Navy and Australia."
Mr Wilson, 72, who was an aircraft mechanic seconded to the US forces during the conflict, said frustration at the lack of public recognition on coming home was "still in the back of my mind".
"We were blamed for going there and it took a long time to get recognition from the Navy," he said yesterday.
"Even some RSL clubs were pretty nasty."
He has received awards including the Air Medal, and the US military force's "Wings".
A Somerville resident for 20 years, Mr Wilson worked as an aircraft mechanic at Tyabb airport, Bib Stillwell Aviation and later Boeing after returning from Vietnam in 1970.
But the onset of post traumatic stress disorder had caused him to relive the conflict in recent years, bringing on panic attacks. Although now a TPI pensioner his days are busy: "I drive for Peninsula Transport Assist and join in at the men's shed and I've volunteered over the past 12 years at the Phillip Island Vietnam Veterans' Museum," he said. "You've got to keep active."