PENINSULA LEAGUE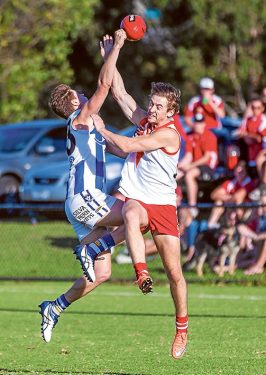 NEW Mt Eliza coach Troy Shannon had no idea what to expect from his team in the opening round of the season against Pines in Peninsula Division on Saturday.
The Edithvale–Aspendale premiership and 2015 Vic Country coach had taken over a club that, from the outside looking in, was in some strife.
There was a big clean out throughout the off–season and Shannon was going into the first game without key forwards Scott Lockwood (Sorrento) and Justin Van Unen.
He was also going into the match without between four and six of what he believes could be in their best side, including Matty Davis and Karl Lombardozzi.
What Shannon was sure about though was that he had a footy team that was committed to the cause.
"In all of my time in coaching, I've never come across a more driven group of players," Shannon told the RPP Footy Show.
With the Under 18s and Reserves coming off back-to-back premiership, there is a culture of success at the Mt Eliza Football Club – problem is, it's not being tasted by the senior group.
After Saturday's performance against Pines, that might well change. Perhaps not this season or next, but the culture will no doubt change under Troy Shannon.
Shannon told the Footy Show that the key for the club in securing recruits over the summer was to attract players who had played in premierships. Of the six key signings, four of them had tasted the ultimate success.
"With players coming through with premiership success and now with some experienced players in the seniors with flag success, the group will know what is required to win premierships," Shannon said.
Mt Eliza were superb for four quarters against Pines on Saturday.
The Pythons have prided themselves on team defence in recent times but the Redlegs were able to break that down and score, kicking 13.8 (86) to 9.10 (64).
Jay Neratzoglou booted two goals for the Redlegs after returning to the club with brother Matt, while Dave Barton and man mountain recruit David Hand were instrumental.
Aaron Edwards was among the Pines' best with three goals while Beau Hendry and Shane Waterstone also worked hard.
Karingal celebrated a thumping win against traditional rivals Langwarrin on Saturday, booting 16 goals to nine after quarter time to win 19.6 (120) to 11.10 (76).
Leigh Poholke booted six goals on debut for the red and the white, Chris Hay dominated with three majors, as did Michael Burke. The trio proved that they will be a formidable in attack this season.
Cal Dixon ran around for the Bulls like he had never left and looked the best he has looked in three seasons while youngsters Jackson Matthews and Brad Occhipinti are two of the excitement machines coming through.
Langwarrin's Kieran Albanese has always had all the talent in the world but has taken some time to bring it to the table. The shackles were released on Saturday and he responded with six goals.
Nick Tuddenham and Gerard Brown were also among the best for the Kangas.
Frankston YCW kicked off its 2016 season with its 15th straight victory, beating Seaford 16.15 (111) to 3.5 (23).
With Lachy Wallace back from Collingwood duties and the likes of Scott Macleod, Luke Collins, Kyle Hutchison and Anthony Bruhn up and about, the Stonecats were just about at full strength.
Ryley Hodson and Brenton Credlin stamped themselves on the competition last season and their start on Saturday was first class.
Stonecats coach Scott Mathers told the RPP Footy Show that he was looking for the likes of Jack Greenwood (two goals) and Matt La Fontaine to take another step in their development this season, as well as a 'few others'.
"We've got to continue to keep improving and that's going to come in the form of the older guys getting the best out of themselves and the younger players grabbing their opportunities," Mathers said.
Mornington put a tough end to the 2015 season and a less than good pre-season behind them on Saturday, beating Bonbeach by 13 points, 17.11 (113) to 15.10 (100).
The Doggies led by 51 points at three quarter time but the Sharks stormed home with six goals to a point.
Jackson Calder and Jimmy Cameron booted three each for the Dogs while Warwick Miller and Chris Baker were outstanding, along with the returning Brad Harvey.
Shane McDonald booted three and was one of the Sharks' best while Jackson Sole and Lachy Gill-Renouf were superb. Luke Damon played in Bonbeach's reserves, booting six goals, being among the best.