CRIB POINT FNC
By Jared Newton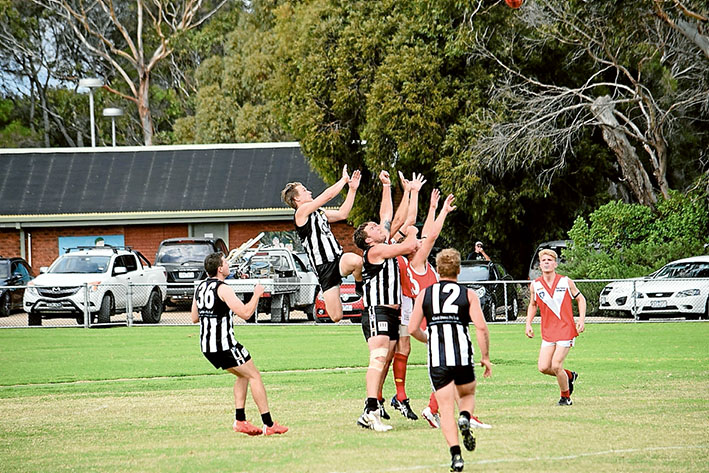 DIRTY day at the nest on reunion weekend which was celebrating the 66, 67, 68 three-peat powerhouse side of half a century ago. There were a few moist eyes among the older stalwarts as they came from all over Australia to watch all three teams go down.
The under 19s were jumped early and were battling against the tide right from the start but poor kicking kept the Pies in the game longer than they deserved to be.
Thirty-two scoring shots to four showed the dominance as Red Hill kicked away in blustery conditions to win 8.24 to 2.2.
Jayden Deas picked up where he left off with a BOG performance and the Smith brothers channeled their inner Warlock to be pretty solid down back despite being under relentless pressure.
The Reserves talked a good talk but didn't quite walk the walk in a solid, yet still disappointing performance to go down by 23 points to a side that's had their measure in recent years.
The two sides were very evenly matched for much of the day and it was a goal for goal affair in the first half. Two send offs in the space of 5 minutes in the 3rd threw the side into chaos as Red Hill utilised the extra numbers to kick ahead and ice the game.
Brodie Hill showed what a solid pre season does for you with a BOG performance through the middle, while Jacob Cudmore provided quite a bit of drive off half back in his first game as a magpie to stake his claim for a senior position. Neil Clark was at his clunking best with a dozen or so grabs and three goals.
The seniors were a little flat in the main game yet Red Hill never really put the game beyond doubt until very late.
The effort was certainly there but goals were hard to come by for the Pies who only managed to snag two in the opening half.
There was plenty of upside as the group are still learning the nuances of one another and they should only get better as they play more football together.
Dean Warry was pure class as always and the Stratton brothers were great in their first hit out as Crib Point footballers- as was Jake Dade-Bell with his repeat efforts through the middle.
It's only round one and you live to fight another day and the entire club should be super hungry with the six day turnaround to atone against Pearcedale at Tractor Park in what is always a tough game wherever they are on the ladder.