CRIB POINT FNC
By Jared Newton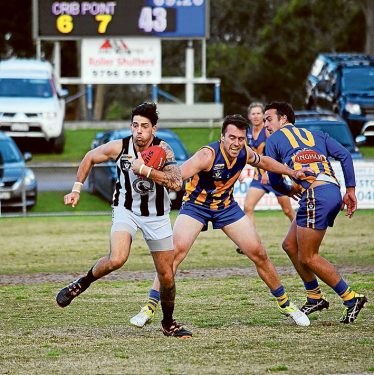 NOT a happy day for the Pies as all teams went down against their feathered rivals from Somerville.
The seniors were highly competitive without fully threatening with avenues at goal again being the biggest issue for the Pies.
With Dean Warry back in the side the Pies looked much more potent up forward and he delivered with three majors.
The Pies never gave up and poor kicking from the Eagles kept Crib in the game for much of the day before some late goals put a gap between the two sides.
There's no doubt there is some good footy being played by the seniors, the issue has been they haven't been able to sustain it for long periods and when teams have got on top, they've scored heavily on them quickly.
Paul Smith continued his good form for the season with a great game at CHF, Brad Arnold was also solid in the middle. Matt Hogan put in his best game for the Pies at Full Back and Danny Vercoe who was rewarded with his good form in the reserves found plenty of the ball to solidify his spot in the seniors.
The reserves possibly played their most disappointing game for he season with a 16 point loss to Somerville.
After going goal for goal in the Lee Koerner Cup for the first half, Crib decided to throw their discipline out the door, lose the plot and in 10 minutes of madness played themselves out of the game.
The only thing that will stop the reserves from being a good side is themselves if they let pressure overcome them in the tough games.
Despite the negatives, there were a few bright spots including periods of excellent defensive pressure but the wet, windy weather made for slippery conditions as the offensive side of the game never really got going.
Lee Koerner was best on ground in a points decision from Cal Campbell giving the side plenty of drive from the backline. 
The Under 19s played a solid first half before being completely overrun to go down by 58 points.
The unders had all the play early on but couldn't sustain the pressure for four quarters.
Will Larkin was BOG and birthday boy Harri Dekleuver who still owes me a beer was solid with two majors.