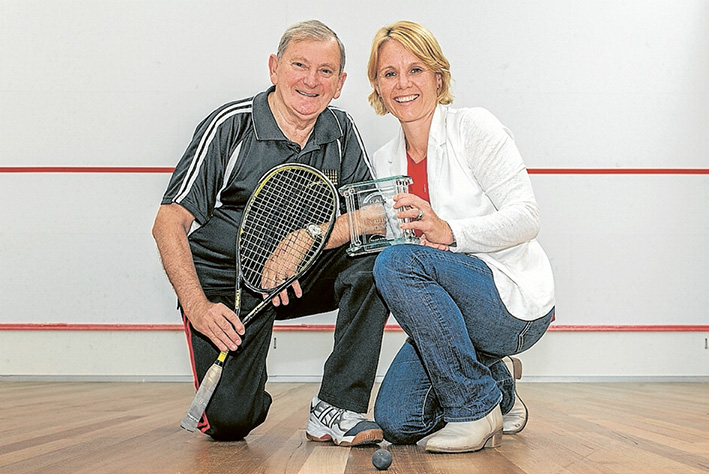 A MAN whose name is synonymous with squash, not just on the Mornington Peninsula but across the southern suburbs, has been inducted into the Squash and Racquetball Hall of Fame.
For almost 40 years Allen Minchington owned and managed the Oakleigh, Portman's and Dromana squash centres, as well as being a player, coach and administrator.
He is still active in the sport, most recently running in-house practice and coaching sessions at Tonic Squash and Gym, Dromana, on Sunday afternoons.
As a Victorian senior state team member, junior and senior state team coach and team manager, he is a highly sought after coach who has written many articles on coaching and the sport.
As Victorian state match and pennant chairman for 10 years, his clubs attracted large numbers of inter-club players, most of whom he coached, and who brought considerable success to his venues.
Throughout his time he has been on the committees of the Southern Districts Squash Association, Southern Squash League and Victorian Squash Federation.
The awards night at Mulgrave Country Club was a trip down memory lane for 140 past and present players, officials and administrators.
While the sport has always been popular, it has had its share of ups and downs: "From the 1960s-80s the earnings from the game just could not keep pace with the price of the land on which the courts were built," Minchington said.
Land values were rising all the time making the courts, which sit idle most of the time, unviable, he said.
"And, during that time, lots of others sports became popular, such as indoor games of cricket, soccer, volleyball and handball, which took squash players away from the sport.
"All of a sudden there were lots more things to do."
Minchington praised the mayor Cr Graham Pittock for establishing the eight-court squash and gym complex in Collins Rd, Dromana.
He said other established squash courts – including his old courts in Rosebud – had been demolished over to make way for apartments.
It has been a long road for Minchington, who began playing during the glory days: first at Thornbury in 1960, then Oakleigh and Golflinks Av, also Oakleigh, in 1964 before establishing himself at Portman (Oakleigh) from 1980-96.
He bought Dromana in 1989 and ran both centres for seven years before retiring as a proprietor in 2009 after 54 years of running squash courts.
"It was a fluke job in the beginning as I was mixing business with pleasure and I was quite good at it," he said. "I took to the racquet skills easily and was basically self-taught – I just copied the experts and turned out a handy player.
"If I was to run from here to the corner I'd be puffed out but I can go for one and a half hours on the squash court without raising a sweat."
Minchington, who played No 4 in the 1966 Victorian state team alongside legends of the sport Geoff and Bill Hunt, said career highlights included winning the Tasmanian title and then beating the dominant Hunt in a challenge match at well-established courts in Alma Rd, St Kilda.
"It was a rare win and real feather in my cap," he recalled. "A friend of mine was in the gallery that night and, even after all these years, he still greets me with the words: 'I was there'."
Another highlight was coaching the state women's team to eight Australian titles in both seniors and juniors. "They won three of four senior Australian titles and the junior girls didn't lose over the four years that I had them."
He said coaching the women was "a different atmosphere that certainly helped me with my coaching."
Now living at Safety Beach, Minchington speaks fondly of the big name sportspeople with whom he has rubbed shoulders, such as footballers Ian Stewart and Jack Clark who "knew they had to be squash fit to be really fit for all sports".
"It's a great sport but it's just a shame it's in decline," he says.
First published in the Southern Peninsula News – 14 June 2016