PENINSULA LEAGUE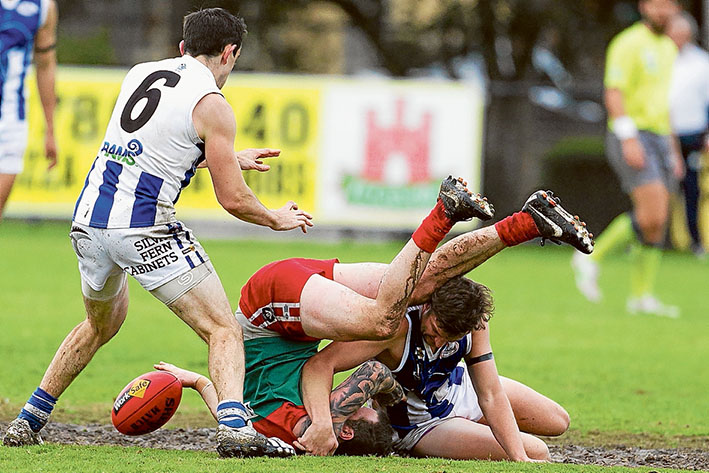 FRANKSTON YCW will not be beaten in 2016, according to two MPNFL Peninsula Division coaches.
And worst still for the competition, the coaches believe that nothing will change in 2017 and beyond under the current MPNFL Player Points System (PPS).
Guests on the RPP Footy Show on Saturday morning, Mornington coach Chris Holcombe and Seaford coach Ben Murphy were both steadfast when asked the question "can anyone beat Frankston YCW this season".
Without hesitation, both Holcombe and Murphy said "no".
Holcombe said that the Stonecats were a long way in front of any other team in the competition, not only this season, but for seasons to come.
Mornington has played in the past two grand finals against the Stonecats, failing in 2014 by a whisker and being humiliated last season.
Later that afternoon after making the statements, Holcombe's Mornington was belted by 112 points by the Stonecats after trailing by just 10 points at quarter time.
Holcombe said the only way that the Stonecats were going to come back to the pack was a lack of money or players leaving the club.
"Right now, if YCW keep paying what they're paying and keep their list together, which they do every year, then it's going to be a long time before anyone can catch up," Holcombe said.
"I don't want Frankston YCW to take that as a knock – they are a sensationally run football club and absolutely deserve to be where they are. They are the envy of all us.
"They have a strong core group and have the ability to pick up one or two each year to top them up again.
"Unless the bottom falls out of them, it's going to be some time before things change and they don't dominate the competition," Holcombe said.
Murphy said the PPS didn't allow teams to catch up.
"To get close to Frankston YCW you have to recruit a lot of players – the system doesn't allow you to do that," Murphy said.
"So we have little choice but to take our time, rebuild and recruit what we can over time. It's going to take a fair amount of time to get to YCW's level.
"There's no use going out and spending a load of money unless you think it's going to beat YCW, so it's about bridging the gap locally as best you can first.
"Like Holcs said, full credit to YCW for being where they are but things aren't going to change any time soon," Murphy said.
Frankston YCW won its 23rd consecutive match on Saturday against Mornington. By season's end, it will be 35.
Paul Minchington, Anthony Bruhn and Kyle Hutchison all booted four goals each for the Stonecats, as did 18-year-old Josh Butland.
Michael Williams booted a goal in his return game for the Dogs after leaving Pearcedale, while Nick Martin and Ash Williams worked tirelessly.
Holcombe said 2016 was about resetting the culture at his club and getting games into the youngsters.
"We're a very different football club this year than previous seasons and it's about giving opportunity," Holcombe said.
Seaford kept its finals hope well and truly alive with a massive 23.17 (155) to 6.7 (43) win against Chelsea.
The Tigers are just two points outside of fifth spot after Kyle Matthews and Joe Hallal booted four goals each and Matt Herbert and Brad Doyle dominated.
The Gulls led by a point at half time before Seaford booted 16.9 to 2.1 after the main break.
Bonbeach bounced back from a slow start to record an eight point win against Karingal.
The Bulls jumped out of the blocks and led by three goals at the first break before Bonbeach hit the front at half time with a four goal to one second quarter.
It was toe-to-toe in the last hour with Bonbeach recording a 9.14 (68) to 9.6 (60) victory.
Jackson Bennett, Jacob Flannery and Shane McDonald were superb for the Sharks while Luke Damon booted three goals.
Leigh Poholke booted five majors for the Bulls while Duncan Proud was again outstanding across half back.
Inaccuracy cost Langwarrin a win against Pines on Saturday.
The Kangas dominated the second quarter but couldn't find the big sticks, booting 2.5 to one goal for the term.
Again in the third, Pines kicked 5.1 to Langwarrin's 1.6. The Kangas booted two goals to two behinds in the last to go down 6.12 (48) to 8.5 (53).
Pines' Adam Marriner, Shane Waterstone and Aaron Edwards with three goals were the difference between the sides.
Brian Peach, teenager Zack Andreawartha in his debut game and Nick Tuddenham were the best of the Kangas.
Mt Eliza had little trouble disposing of Edithvale, who dropped to fifth place on the ladder.
The Redlegs opened with a five goal to one first quarter and extended its lead at every change, winning 14.12 (96) to 6.9 (45).
Justin Van Unen booted seven goals to give him 13 goals in two weeks since playing on the wing against YCW.
Nathan Ryan was outstanding for the Redlegs with a couple of goals while Sam Gill controlled things in the back half.
Tommy Turner and Brendan Neville were among the best for the Eagles while Nick Carlon also worked tirelessly.