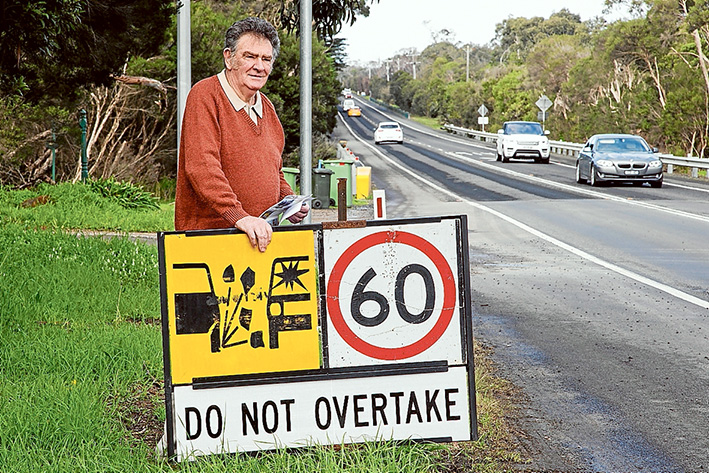 VICROADS was "totally aware" of the problems caused by the deteriorating surface of sections of Frankston-Flinders Rd, Somerville, a spokesman said Friday.
By mid-week, loose stones had damaged five windscreens, chipped car panels and generated countless verbal complaints about the quality of the work in the relaid section between Hawkins Rd and Scott Grove.
"Who knows how many windscreens have been hit by now," VicRoads media advisor Jarryd Stokes said.
A temporary 60kph speed limit is in place on the two kilometre section of road which was resurfaced in April, with the new seal deteriorating in the recent heavy rains.
Mr Stokes said VicRoads staff had met affected residents on site as well as attending a mini-community meeting of neighbours at the home of an irate resident. Engineers explained the extent of the works, detailed what was expected to be achieved and when – and advised how out-of-pocket residents could claim reimbursements for damages to their cars by flying stones.
He said motorists' notices-of-claim – which can be downloaded from the VicRoads' website – were "being addressed by our contractor". Those claiming would have to prove they were travelling on the new section of road when the damages occurred.
"We are trying to help," Mr Stokes said. "We are sweeping the road three times a week to remove loose stones.
"Unfortunately, we can't complete the works until we have consistent dry weather. In spring, one day the weather might be dry but the next day wet.
"We have to wait until it is dry and, hopefully, this may occur soon."
Tyabb resident Gordon Turner said he "nearly lost a windscreen" when stones flew onto his car, Thursday afternoon.
"They redid the lines four or five weeks ago but all the stones are coming off," he said.
"It's criminal. They must have spent hundreds of thousands of dollars on the works but the aggregate is not taking to the bitumen."
Wife Barbara: "It's like they forgot to put the icing sugar in the icing."
Hastings MP Neale Burgess has written to the Minister for Roads Luke Donnellan confirming that motorists are "hopping mad" about the damage to their windscreens and "having to wait until the end of the year before the road is repaired again by VicRoads".
He said he had received reports of some drivers abusing the 60kph limit "causing further irritation for motorists".
"VicRoads has erected a sign … saying repairs will not be completed until November/December, "Mr Burgess said. "Motorists have stated that they find this situation totally unacceptable and have asked for the Minister for Roads to urgently intervene and take control of this vital road issue."
Mr Burgess wants Mr Donnellan to review the November/December schedule to get the works done sooner.