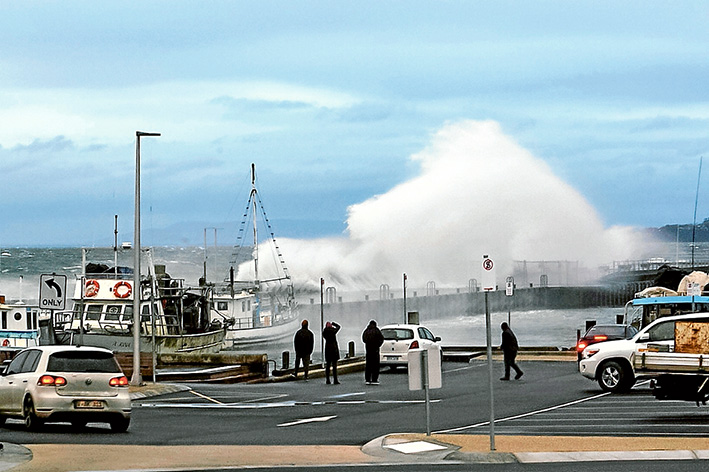 ANOTHER big blow on Monday last week gave Mornington pier its second storm battering in two weeks.
Huge seas and strong winds again smashed over the concrete structure which just two weeks before had seen nine 15-tonne concrete panels torn off in 60-knot winds. Top deck planking, handrails and a seat were also damaged.
Since that storm the outer section of the pier has been closed to the public.
The damaged panels were recovered by divers and a crane on a barge and taken away for inspection.
No details of what caused the pier to break down have been released by parks Victoria.
Parks Victoria said there was no indication of any damage last week, although it is clear the $18 million pier is being severely tested after a complete rebuild and reopening mid-last year.
Barricades last Monday prevented people getting too close to the action on as huge waves blanketed the structure in spray while cars queued along Schnapper Pt Drive for a look at the wild weather.
"Once the pier has been properly assessed, we will reopen the areas that are safe to use," Port Phillip and Westernport chief ranger Reece Taranto said after the initial storm. "But, until marine engineers have had a chance to assess the damage and determine the best approach to repairs, it will be difficult to put a timeframe on when repairs will be completed."
Mr Taranto said marine engineers would determine the best way to strengthen the panels. He said only the wave panels were damaged, not the structure itself.
Wave screens on both sides are designed to protect the harbour from storms that have damaged or destroyed moored boats several times since the 1980s.