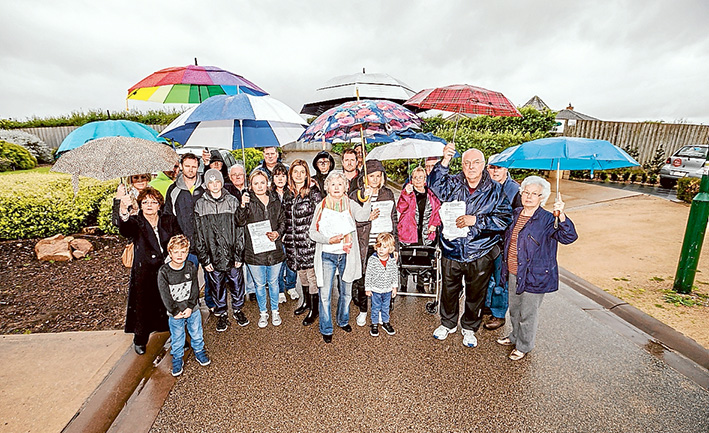 A ROW is brewing over a proposed high-density housing estate in Mt Martha in which 47 units and townhouses will be crammed onto one big block.
The 180 Bentons Rd site with its existing large, old homestead on five acres could be transformed into high-density living with up to 28 single storey units and 26 two-storey townhouses.
Bentons Blossom Pty Ltd previously asked for 52 units in the $45 million project but reduced this to 47 in the hope of winning approval. The company propose blocking off access to busy Bentons Rd and, instead, linking three narrow internal roads with 5.5-metre-wide Valerie Close and Jendalyn Close – much to the concern of residents.
The planned average 292 square metre blocks in the $45 million project will be dwarfed by properties of more than 800 square metres in adjoining streets.
Residents who have signed petitions and circulated objections among their neighbours say the site, bought last year for $5 million, should be limited to 19 homes.
They say the planned high density will bring the "inner-city" to their former semi-rural area, causing the loss of amenity and character.
Mornington Peninsula Shire had previously knocked back the proposal but the reduction in scope means it would probably succeed at VCAT, residents have been told. They fear the narrow 3.5 metre internal roads will not be capable of handling large vehicles, such as fire trucks in an emergency and garbage trucks on their weekly rounds.
Despite the units and townhouses having double garages, residents say a lack of room means garbage and recycle bins will need to be stored inside – meaning one car will have to be parked in the street, adding to traffic congestion.
"It's a mess," says Valerie Close resident Paul Carigg. "This development could change the face of Mt Martha."
He said covenants on block sizes were not being followed. "The development was originally for 60 blocks, then 52 which we objected to and now 47," he said.
"We have been advised that the council will probably have to accept it because it satisfies state government guidelines.
"They won't even have space for bins which will probably be lined up in Valerie Close."
First published in the Mornington News – 23 August 2016