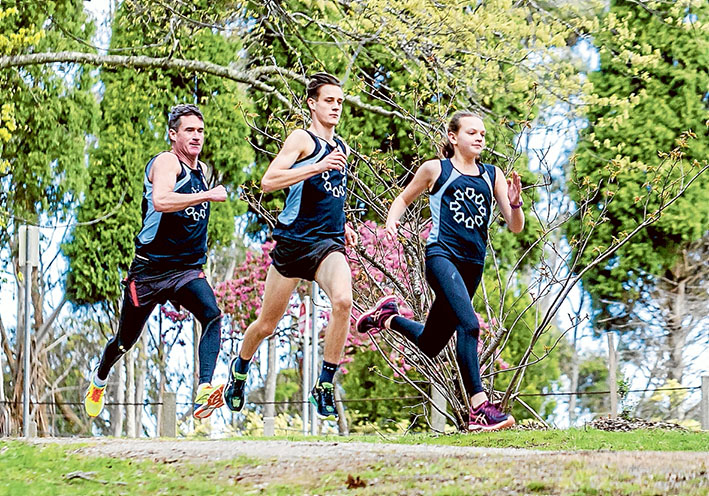 WHEN more than 2000 people gather at the foot of Arthurs Seat on Sunday 6 November, one group will stand out from the rest.
They will be wearing the black and blue running shirts of the Nicholas Lynch Real Estate team, which has sponsored the annual challenge for the past eight years.
Proprietor Nicholas has run the 6.7 kilometre course six times, while son Brodie won his category over the past two years, and Abbey Brady, daughter of the company's client services manager Jo Brady, won in her category last year.
"This is something we're very passionate about," Mr Lynch said.
"I've always believed in the importance of involvement in community sport. This event also adds the aspect of road safety fundraising, which makes it even more worthwhile.
"Most of the staff at Nicholas Lynch Real Estate are parents, so, on a personal level, we understand the importance of driver education for our youth."
Last year, Nicholas Lynch Real Estate staff and families made up about 30 participants in the race. This time they are hoping for closer to 40 – all wearing the company logo on their shirts.
In 2014, as a show of continued support for the event, the company paid for more than 200 competitors to register.
"We paid the registrations to increase awareness of the event," Mr Lynch said.
"Those people have discovered how much fun and how rewarding it is, and have gone on to participate on their own accord since then."
Arthurs Seat Challenge funds the Fit2Drive program which delivers peer facilitated workshops to Year 11 students at schools and community settings across the state.
The program aims to provide young drivers and their passengers with better decision-making capabilities to cope with difficult driving situations.
Transport Accident Commission chief executive officer Joe Calafiore supports the campaign and also congratulates the Mornington Peninsula Shire for being the first Towards Zero municipality with its range of road safety initiatives.
"Towards Zero is not just a campaign or vision – it defines our approach to saving lives and we're thrilled that the people of the Mornington Peninsula have embraced the positive approach to road safety," he said.
"From 2011-15, on average 22 per cent of all drivers killed in Victoria were aged 18-25 – despite the group representing just 14 per cent of all Victorian licence holders," Mr Calafiore said.
"Good driver behaviour is learned from a young age, which is why we have a number of road safety programs, like Fit2Drive, running in schools and regional areas."
As for Nicholas Lynch, who recently celebrated his 47th birthday by going for a 47 kilometre run, he'll be there again – running up Arthurs Seat for a great cause.
To register for the family friendly event go to arthursseatchallenge.com.au or call 0412 947 609.