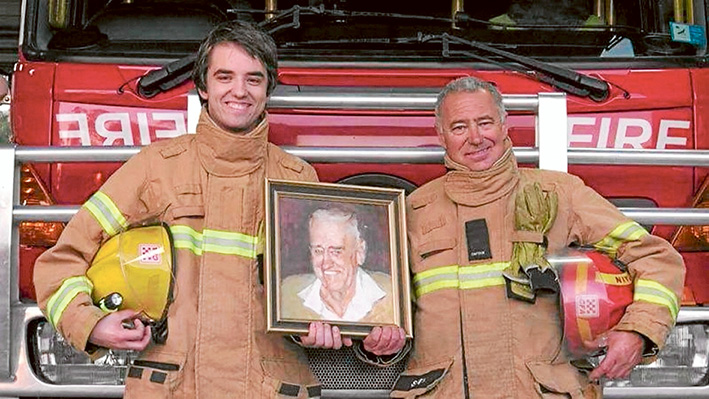 WHAT started as a university project has turned into a film that, judging from its social media "likes", is inspiring the community.
Mt Martha CFA volunteer Will Smith created Passing the Torch – a documentary about his family's three-generation long involvement with the brigade.
The film was a major assessment in Will's Film and TV bachelor degree at Deakin University's Burwood campus.
Will teamed up with four other students to create the film, with each taking on a crew role.
Will, director/producer, said it took three months from concept to final product with the team handing in its assignment in October.
The film – which features on the CFA website – tracks three generations of volunteer fire fighters. Will is the son of Mt Martha CFA's captain Brian Smith. His late grandfather Wilfred was one of nine founding members of the brigade, which began in response to the fire-fighting needs of a fledgling community.
"Originally we were going to do a more general film about the Mt Martha brigade's history, but our tutor recommended we focus on my family's involvement with the brigade, which the team agreed would be a strong angle," Will said.
"It was a lot of hard work but we all had fun creating something that has really resonated with the community. Dad enjoyed taking part, too, and he has already been recognised by a few people."
Since Passing the Torch was published on the brigade's Facebook page, it has been viewed more than 4000 times, "liked" 143 times and "shared" 43 times.
"It's a great way to highlight the strong sense of community CFA brigades have – they're all great groups of people dedicated to protecting their neighbours' lives and property," Will said.
"Seeing the finished product so well received by the broader community has been the most rewarding part for me."
Will has been a CFA volunteer since he started as a 13-year-old with the junior brigade. He is now the junior brigade's coordinator.
Will is due to graduate this year and is looking for an internship to build his workplace experience. He would like to become a career firefighter, using his videography skills for community engagement activities.