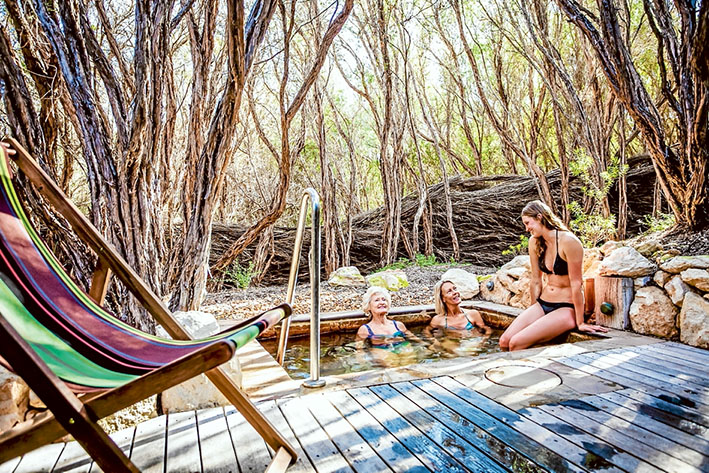 NEW research has highlighted the health and social benefits of spending time semi-immersed in a hot spring.
Family and friends tend to enjoy the shared experience, while the shedding of mobile phones and time spent in singular contemplation have emerged as being among the main attractions to a hot springs.
The latest research findings (first published in the Asia Pacific Journal of Tourism Research) are based on 4265 responses to survey of bathers at Peninsula Hot Springs, in Springs Lane, Fingal, near Rye.
As well as highlighting beneficial social outcomes,  he study also found bathing at the hot springs provided significant relief to respondents with severe back pain, arthritis, injury, chronic pain, depression, anxiety and insomnia.
More than 80 per cent of survey respondents said they slept better after bathing at the hot springs.
Next month (March) the hot springs will enter a "partnership" with Mentis Assist, a not-for-profit mental health organisation providing specialised support for Mornington Peninsula residents diagnosed with a mental illness.
The RMIT School of Health and Biomedical Sciences survey asked bathers to list their reasons for visiting the hot springs: more than 60 per cent rated "social – to connect with friends and family" as important. The study found 95 per cent of regular bathers most often visited with friends or family.
Nearly 70 per cent rated "being with other people" as an "important" or "somewhat important" factor that positively influences their bathing experience while "taking time out", "peace and tranquillity of the environment" and "being in Nature" all had ratings over 50 per cent as "important" factors for their visit.
Hot springs research co-author James Clark-Kennedy said findings suggested an evolution in Melbourne's "traditional playground" [the Mornington Peninsula], towards relaxation in healthy surrounds.
"Not too long ago friends on the peninsula had two main forums for social interaction: the beach and the pub. Families had backyard barbecues and a handful of restaurants, again where alcohol may often have been an underlining connector," Mr Clark-Kennedy said.
Peninsula Hot Springs CEO Charles Davidson said bookings were often made by families with three and even four generations of women from the same family "taking time out to enjoy and connect with their pure nature".
Since opening in 2005 private pavilion bathing areas had been provided for family and friends "though social bathing was fully achievable with the opening of the Bath House in 2009 and its family bathing area".
The hot springs has more than 430,000 visitors a year and plans now underway project the number of visitors will be 600,000 a year by 2018.
Mr Clark-Kennedy said Mr Davidson's vision for "a place where quiet escape in tranquil surrounds for some could be offered parallel to a social experience for others" had been achieved.
Research supervisor Professor Marc Cohen said: "That the bathing environment generally precludes the use of mobile phones and other technology may further allow people to escape their usual routines and more fully relax and immersed themselves in nature, thereby further enhancing the relaxing effects of bathing."
Springs improving mental health

THE partnership between Mentis Assist and Peninsula Hot Springs is based on a "shared" philosophy of "promoting mental and physical wellbeing and striving to improve the lives of people affected by mental ill-health and their carers".

"It is estimated that one in five Australians are affected by mental illness every year. Yet only 25 percent of people with mental health conditions feel that people are caring and sympathetic toward their struggles," the hot springs' global and community relationship manager Yuki Davidson said.

"We are aiming to reduce the stigma associated with mental illness and to raise awareness of the issues through collaborative activities and promotions.

"There is no doubt that we form an effective team when a place of wellness offering mindful experiences in natural settings is combined together with Mentis' expertise and access to local people living with the mental issues."
First published in the Southern Peninsula News – 21 February 2017