SOCCER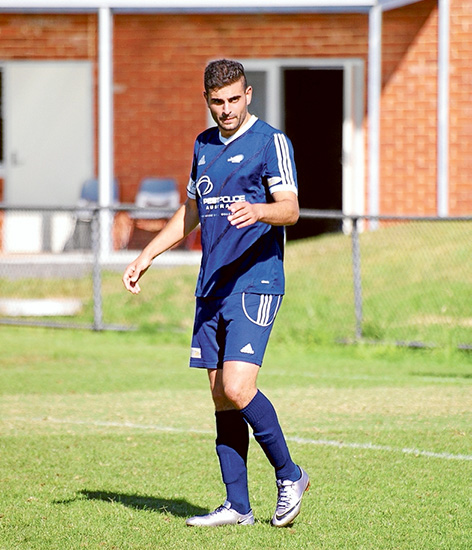 By Craig MacKenzie
A BROKEN leg, a 9-0 thrashing, send-offs and melees involving players, both benches, coaches and spectators – the 2017 FFA Cup had it all last weekend.
Rosebud Heart veteran Simon O'Donnell suffered a broken fibia and tibia of his right leg during Saturday's 3-1 win over Dandenong Warriors at Knox Regional Centre.
"That's my career over. I don't want my son ever seeing that again and will just focus on my weekends with him," said O'Donnell on Sunday awaiting surgery at Knox Private Hospital.
Heart was 2-0 up after 11 minutes thanks to a sizzling strike by Blake Hicks and a low volley from Daniel Hodge.
O'Donnell's injury came in the 26th minute and he was stretchered off.
"Some of the players were really shaken up by the incident and we lost our way a bit," said Heart gaffer Scott Morrison.
A behind-the-play incident in the 35th minute resulted in a send-off for Warriors' Warnyang Pouch and in the 75th minute teammate Hadiy Muradi also received his marching orders after allegedly calling an assistant referee a faggot.
A Zac Karolidis free-kick in the 80th minute made it 3-0 and the Warriors' consolation goal in the 89th minute was scored by Joshua Topping.
The cup double header at Centenary Park on Saturday opened in expected fashion as Skye United walked all over Ballarat visitor Forest Rangers.
However it ended in uproar after a fiery clash between home team Peninsula Strikers and visitors Brimbank Stallions that saw three players red carded amid ugly scenes on an off the pitch and as the teams went to the dressing rooms at game's end.
Forest Rangers went into this round two clash after forfeits in the cup's qualifying rounds and without a reserve goalkeeper and just one player on the substitutes' bench.
"These are all the players we could get to come down here but we don't believe in forfeits and I think every club that forfeits should be fined," said Rangers coach Sam Muscat.
It took three goals in five minutes of the first half to settle the issue.
Rangers' goalkeeper Daniel Cook was dreadful in the air and decidedly uneasy with the ball at his feet – a sure recipe for disaster.
Yet Cook stopped Skye on numerous occasions and was one of his side's best players albeit that he was helped by finishing that bordered on slapstick comedy.
Skye's first half barrage was started by John Andrinopoulos scoring from close range after Cook flapped at a Mark O'Connor free kick in the 24th minute.
A minute later a cheeky O'Connor stepover sent Wumjock Jock through and despite getting a hand to Jock's shot Cook couldn't take enough momentum off the ball.
In the 29th minute Khor Gatluak nutmegged an opponent on the right then squared to Jock who made it 3-0.
Jason Nowakowski was at the back post following a Gatluak cross from the right and slotted the ball past Cook to make it 4-0 in the 41st minute.
A fine interpassing movement right on half-time ended with Cook parrying O'Connor's shot and presenting Nick Theodore with a tap-in for No 5.
O'Connor's far post header in the 62nd minute made it 6-0, Jock notched his hat-trick in the 67th minute, Cook miskicked to Theodore who steadied then curled a low shot past the stranded keeper in the 69th minute and Marcus Collier finally got on the scoresheet late in the game.
The marketing catchcry "the magic of the cup" took on a new meaning when Strikers and Stallions locked horns in the second cup tie at Centenary Park.
Brimbank keeper Alex Capias kept his side in the contest early denying Alex Hopson and Aziz Bayeh and getting a finger tip to a low Grant Davies shot that struck the far upright.
Brimbank's best chance fell to Riccardo Ventaglio in the 16th minute but his lob sailed over the bar and the visitors went closer in the 28th minute after Strikers failed to clear a corner and a header clipped the crossbar before going over.
A good interpassing move and superb finish broke the deadlock in the 34th minute.
Tom Hawkins on the left played the ball inside to Bayeh who played in Davies wide on the right and from a tight angle he struck the ball across Capias and inside the far post to make it 1-0.
Swiss import Raphael Stultz made a poor decision in the 40th minute sliding in from behind to tackle an opponent and received his second caution and an automatic red card.
Stultz handed the captain's armband to livewire English midfielder Danny Brooks and the 10 men increased their lead in the final minute of the half when Hopson played in Bayeh who beat one defender then slotted the ball past the helpless Capias to make it 2-0.
Strikers re-arranged their personnel at half-time bringing on Trevor Johnston and Conor Keely with both players slotting in to the defensive formation.
Strikers defended superbly in the second stanza and the Stallions became increasingly frustrated.
A melee erupted on the pitch and soon spilled over into the Strikers' technical area and even saw spectators jumping the fence and becoming involved.
Not long after being substituted in the 60th minute Ventaglio became embroiled in a slanging match with the Strikers' bench and had to be restrained by teammates and coaching staff after charging into Strikers' technical area.
Spotfires erupted throughout the remainder of the contest and came to a head in the dying moments after a mid-air double-footed tackle on Bayeh by Stallions substitute Hayden Formosa.
The referee sent off Formosa for violent conduct but when he also sent off Bayeh the Strikers' bench was up in arms at the decision.
The ill feeling lingered at game's end with players having to be separated as they slowly made their way off the pitch.
Seaford United beat Frankston Pines 4-2 in their cup clash at Monterey Reserve on Saturday.
Seaford's scorers were Daniel Walsh (32nd and 38th minutes), Dylan Waugh (45th) and Nick Ormond (85th) while Pines' goals came from Ben Millward (4th) and Munib Mohamed (45th).
Pines went into the contest without star imports Christopher L'Enclume and Cedric Permal who are waiting for clearances from Mauritius.
"Three of Seaford's goals came from crosses that we couldn't handle which was poor on our part but they deserved their victory," said Pines' boss Billy Rae.
Meanwhile Somerville Eagles have appointed Neil Herd as senior coach while Baxter has pulled off a major coup with the signing of attacking midfielder Jack Gallagher from Kingston City.
However Baxter star Liam Kilner is out for three months with a bulging disc in his lower back.
Baxter takes on Healesville at Baxter Park at 2pm on Saturday and 30-year-old former Clifton Hill midfielder Liam Tinsley will line-up for Roy Kilner's side.
Mornington, Langwarrin and Casey Comets enter the round three FFA Cup draw which takes place today (Monday) at FFV headquarters.
Preseason friendly results: Casey Comets 2 Doveton 0, Mornington 5 Westgate 2, Baxter 1 Ashburton 3, Somerville Eagles 1 Berwick Churches 4.