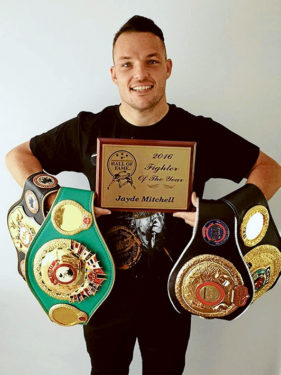 RYE boxer Jayde Mitchell has been awarded one of the biggest wins of his career.
The super middleweight was named 2016 Australian Boxer of the Year at the annual Australian Boxing Hall Of Fame induction gala, Saturday 4 March.
A cavalcade of Australia's boxing royalty attended the function at the Pullman on the Park, Melbourne.
"I'm such a huge fan of the sport of boxing," Mitchell, 31, said later.
"It feels like only yesterday my father (Len) was taking me to these special nights and I'd be in awe of all of the past champions and legends in the room.
"So, you can imagine the thrill it gave me to stand up in front of a room filled with my heroes and to be presented Fighter of the Year by Jeff Fenech.
"To be nominated alongside such great fighters as world champ power house Zac Dunn, arguably the best fighter in Oz at the moment Jeff Horn, undoubtedly the best Female fighter and one Australia's most entertaining fighters Shannon O'Connell, and future super stars and good friends Team Moloney was praise enough."
Mitchell said Australia had too many talented fighters right now to mention. "I believe this [win] is relative to where I'm at in my career and the fights we took last year and how busy we were," he said.
"It's made me reflect on the year that was: six fights for six wins, picking up three regional titles, and defending a regional title against a legend.
"[My] biggest achievement was going to Japan to lift the WBC OPBF title from then champion Shintaro Matsumoto and bringing it back home to Australia.
"I'm truly living my dream and will continue to work hard and ride this dream as far as I possibly can. Having said that, none of this is possible without my sponsors who play a huge part and I'm forever grateful."
Mitchell will fight Les Sherrington at Punches On The Park 3, Melbourne Park Function Centre, Saturday 18 March.