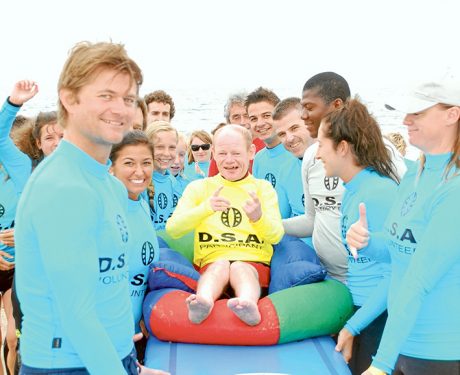 THE Disabled Surfers' Association Mornington Peninsula branch set a new record in the number of participants at one of its surfing event.
With 163 taking to the surf at Point Leo on Saturday 4 March the branch broke the national record of 160.
Australia's 16 DSA branches are in Victoria, NSW, South Australia, Western Australia and Queensland. There is also a branch in New Zealand.
The day at Point Leo was "a relief" for DSAMP secretary Bill Hallett as it followed an event scheduled in January which had to be cancelled because of sharks being attracted to the decomposing body of whale at nearby Shoreham.
"Well, that was a relief. Not a whale carcass for miles around. No hungry orcas or sharks – just a cracker of a day with blue skies, sunshine and a wide open beach with great waves," Mr Hallett said.
There were 200 volunteers on hand to help the surfers and ensure the event ran smoothly.
Mr Hallett hoped the "frustrating bottle-neck" of surfers waiting for the beach wheelchairs would be fixed "with our planned boardwalk which we're committed to build before next year".
"People will be able to get down to the beach edge in their own wheelchairs and get a great view of what's going on from a viewing platform while waiting for a beach wheelchair to take them across the sand to the water," he said.
DSAMP founding member John Bowers said the branch had enough money to build the boardwalk near the Point Leo lifesaving but needed more for the ramp.
"We plan to raise more money by selling planks to generate the required funds."
Mr Bowers said the lifesaving club and Point Leo Foreshore Committee have allocated money to the project as well as Mornington Peninsula Shire and Flinders MP Greg Hunt through the federal government's stronger communities program.
"We have had to alter our plans to limit damage to native vegetation and [Liberal Nepean electorate candidate] Russell Joseph is helping by having conversations with the Department of Environment, Land, Water and Planning.
"We will start construction after any vegetation issues are resolved and our plan has been ratified by council, so the boardwalk can be operating for next summer."
Surf contest
THE Maladiction Longboarders are organising a surfing contest to raise money for the Disabled Surfers Association Mornington Peninsula branch.
The teams' event is on 1 April – April Fools' Day – at The Pines beach (Atlas) Shoreham.
Entry is $200 for each four-person team and surfers will ride the "soft" surfboards used at the annual events run by the DSAMP.
As well as surfing ability, points will be awarded for surfers' costumes.
Prizes for the DSA Champs Surf Competition include $2000 in Jetstar travel vouchers; a Trigger Brothers surf pack; and dinner for four at Stillwater, Crittenden Estate from Peninsula Speech Pathology Services.
Details and team registration at firstreef.weebly.com
First published in the Southern Peninsula News – 14 March 2017